What are Check/Non Return Valves?
Swing Check Valves are non return valves, installed in pressure pipelines, and used to check the reverse flow of liquid by use of a swinging disc inside the fitting. Valves without a lever and weight fitting are only suitable for lower velocities.
Features & Benefits
Resilient seated disc
Lightweight ductile iron design
Pre-fitted extended spindle
Durable fusion bonded epoxy coated
Highly adaptable lever & weight system
Bolt opening for easy maintenance
Corrosion resistant construction
PN10 and PN16 drillings
Applications
These resilient seated swing check valves are suitable for use with potable water, raw water and sewage, to a maximum working pressure of 16 Bar, and between temperatures of -10°C to +70°C. Insulation is essential for temperatures of 0°C and below.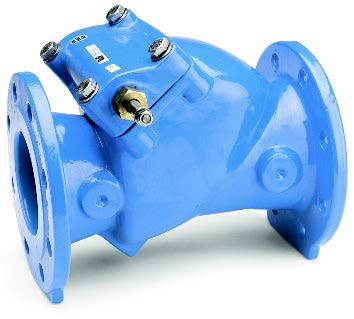 Check Valves Range
| Diameter | Without lever & weight | With lever & weight |
| --- | --- | --- |
| 80mm | 082080NRVAL | 082080NRVALLA |
| 100mm | 0820100NRVAL | 0820100NRVALLA |
| 150mm | 0820150NRVAL | 0820150NRVALLA |
| 200mm | 0820200NRVAL | 0820200NRVALLA |
| 250mm | 0820250NRVAL | 0820250NRVALLA |
| 300mm | 0820300NRVAL | 0820300NRVALLA |