What is ULTRA3?
ULTRA3 is a range of underground sewerage pipes, adapters and fittings which focus on installation, sustainability and compliance. With sizes ranging from 100/110 to 300/315mm and able to use in both house drainage and adoptable sewers, ULTRA3 is the ultimate underground drainage sewer system.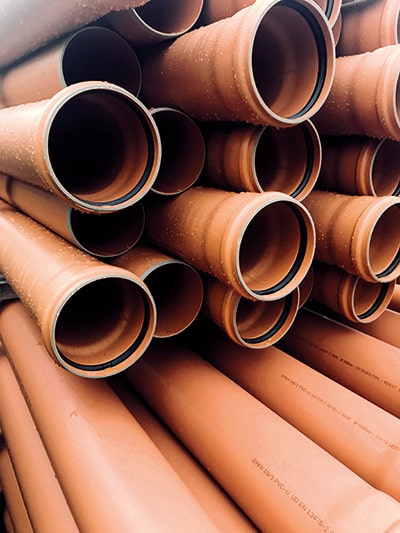 SUSTAINABILITY
Manufactured from PVC-U to EN 13476-2, ULTRA3 has a middle layer which is grey, in comparison to the virgin PVC orange inner and outer, which is made from at least 40% recycled PVC. This means these pipes are lightweight which reduced transport cost and therefore CO2 emissions and carbon footprint. Leading on from this it also means these pipes are easier for you to handle, saving you time on installation costs!
INSTALLATION
ULTRA3 provides a direct connection to PPIC and AXEDO® inspection chambers saving you money as you wouldn't need to purchase any adaptors. Another money saving feature is the integral seal inside the pipe which quickens installation time. A lot of other underground sewer pipes have loose ring seals which can become dislodged during installation and cause delays and air test failures.
COMPLIANCE
All ULTRA3 pipes have a stiffness of SN8 and are classed as a 'structured wall'. They are certified to BS EN 13476-2:2007 standards (Kitemarked), whereas the fittings are certified to BS EN 1401-1:2009. The two can be used together to comply with local authority requirements.
DID YOU KNOW? ULTRA3 is commonly use in major projects such as housebuilding and fire stations!
ULTRA3 is widely available in our 26 UK branches and nationwide delivery network.
Take a look at our video for some more info!