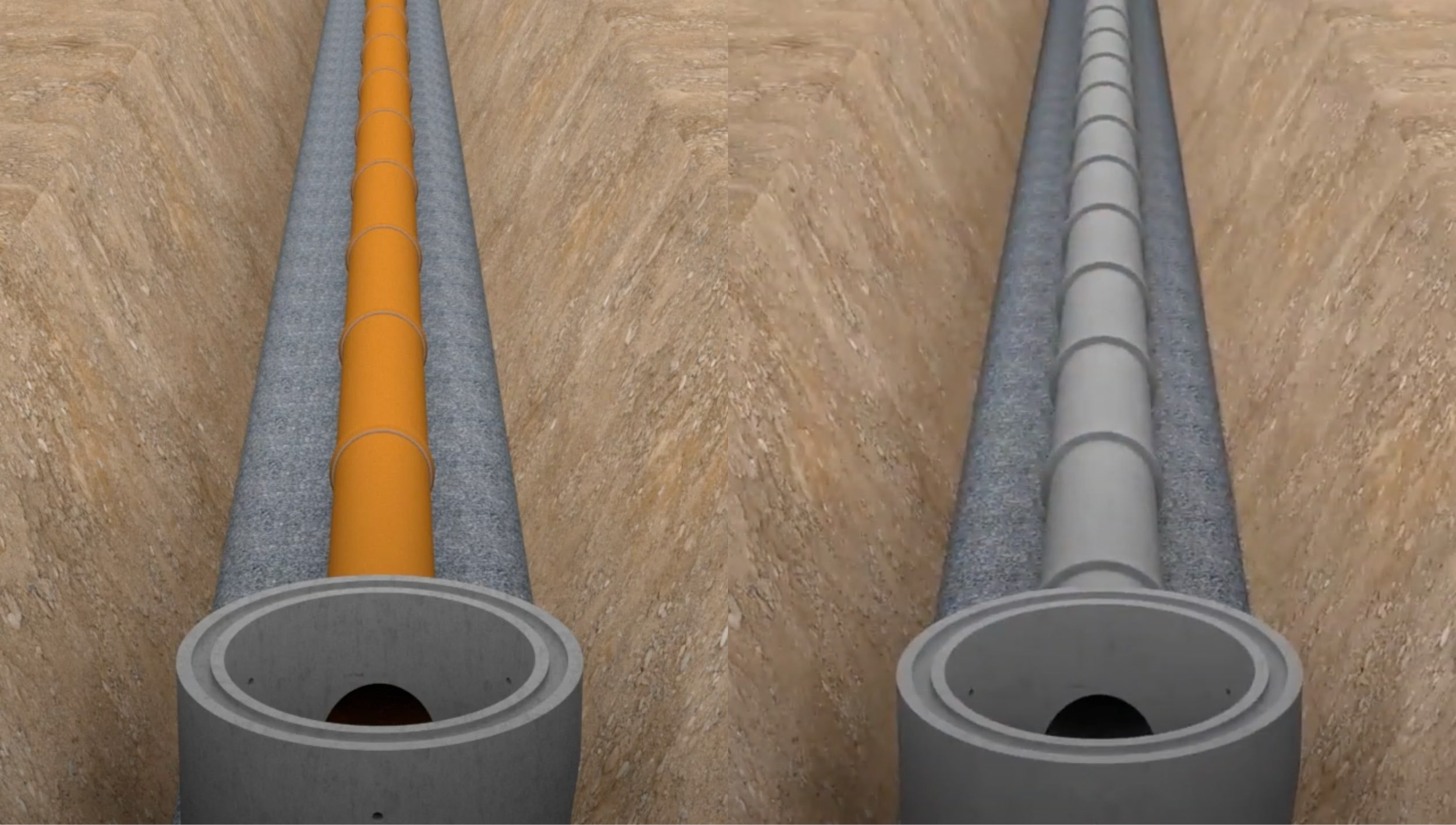 ULTRA3 is a high quality, lightweight and economic solution for both the adoptable market and the commercial/private drainage market. Manufactured with advanced technology, it offers a new generation of pipework and components that focus on installation, sustainability and compliance.
Any development for housing, commercial or recreation will require Foul and Surface water drainage. Housing projects nearly always use adoptable sewer systems in line with Design and Construction Guidance (DCG) for England, Sewers for Adoption 7 (SfA7) for Wales & Sewers for Scotland 4 (SfS4), but they are also extensively used in commercial developments like supermarkets, retail outlets and public buildings such as schools and universities.
Manufactured from PVC-U, with a 40% recycled core, and conforming to BS EN 13476-2 as a SN8-rated structured wall pipe, ULTRA3 can be used in both house drainage (100/110mm & 150/160mm) and adoptable sewers (150/160mm - 600/630mm) compliant with water authority requirements. With a full combination of fittings, ULTRA3 is the ultimate underground sewer drainage system.
But enough of the sales pitch. Let's now take a deeper look into why we believe ULTRA3 is a good alternative to concrete drainage.
Are plastic pipes really suitable for drainage?
It's true that concrete drainage pipes have often been the traditional choice for storm water and sewer drainage applications in the past. With a proven service life of over 100 years, being kitemarked and manufactured to BS EN 1916 and BS 5911 standards, it's not hard to see why. However, due to their inherent weight, concrete pipes require specialist heavy machinery for delivery, offloading, handling and installation purposes, present a significant health and safety risk if mishandled, and their rigid structure can leave them more susceptible to damage from ground movement. That is where plastic comes in.
Plastic drainage pipes are lighter, easier to handle and install and offer flexibility against ground movement without sacrificing on strength. But are they suitable for drainage?
Under current regulations, every pipe serving 2 or more residential properties can be adopted. Water authorities in England and Wales specify products used in adoptable applications must conform to Design and Construction Guidance (DCG) and Sewers for Adoption 7th Edition section E2.22 respectively. In Scotland they must comply with Sewers for Scotland 4 section 4.2.22. Both documents require that structured wall pipes are certified to BS EN 13476, comply with current WIS 4-35-01 guidelines and have a nominal stiffness class rating of 8 kN/m², also known as SN8.
Plastic pipes that meet these standards, like our ULTRA3 does, are as equally suitable for drainage purposes as concrete pipes. More than that, the benefits associated with using plastic pipes, over the more traditional materials, have seen them become an ever more popular choice for modern systems.
What are the benefits of plastic pipes?
Plastic pipes boast a number of benefits that make them just as suitable as concrete pipes, if not more so in some cases, for most installations. These include:
Lightweight - Plastic pipes are much more lightweight than traditional materials, making them easier and cheaper to transport. Plastic pipes are also safer and easier to handle and work with on-site. This can result in reduced labour costs and installation time, with fewer workers/less mechanical lifting required to manoeuvre the pipes into position.
Installation efficiency - Unlike other materials, plastic pipe is available in longer lengths. Longer lengths mean fewer joints and connectors, which speeds up installation and reduces the risk of potential leaks.
Durability - Plastic pipes do not rust, rot or corrode, making them more durable and robust than some traditional materials with over 100 years and 50 years expected service life for below ground and building applications respectively.
Performance - Plastic pipes have a smooth internal wall that allows for a consistent flow rate and optimal hydraulic performance. This can improve the efficiency of the water flow and pressure, require less energy, minimise the risk of flooding, reduce the amount of maintenance required and improve longevity.
Chemical resistance - Plastic drainage pipes have proven to be resistant to chemicals present in effluent or contaminated soils, which can cause corrosion. This feature further reduces the need for costly maintenance or replacement of damaged pipes and helps promote long term durability.
Flexibility - Plastic pipes are naturally flexible which gives them a greater tolerance to ground movement compared to alternative materials. This allows them to cope well with external stresses and deform under pressure, such as from traffic loading or backfill, without cracking or fracturing.
Sustainable – Compared to some alternatives, plastic pipes require less energy to produce, benefit from longer lifespans and are easily recyclable when no longer fit for purpose.
Read our article on the "benefits of flexible plastic pipes over rigid alternatives" for more information.
How long do plastic pipes last underground?
According to TEPPFA (The European Plastic Pipe and Fittings Association), tests confirm 100 year plus expected lifetime for PVC and PE pipes.
Whilst this life expectancy will largely depend on things like the type of system the pipes are used in, the quality of the installation work and the composition of the surrounding soil, reports on dig-up pipes in service have confirmed an expected service life of well over 100 years for below ground pressure and non-pressure applications.
With proper installation and good maintenance, plastic pipes can have a lifespan equal to that of concrete for many installations.
Does concrete have any advantages over plastic?
Of course it does. Concrete is a tried, tested and proven material that has a long history of use in the manufacturing of strong, reliable pipes. While plastic pipes have caught up and even surpassed concrete in some ways, there are still a few benefits to using concrete that will make it more suitable in certain projects.
One of the main benefits is that, due to their strength and rigid structure, concrete pipes can be more often installed without a full granular surround. This can save time and costs, with excavated material being able to be reused in bedding and backfill.
Ultimately though, each material possesses its own strengths and weaknesses, some of which will cancel each other out in an overall comparison of project suitability (e.g. the cost and time saving on the backfill for concrete can be offset by the cost and time savings of plastic pipes being easier to transport and install). Both materials are suitable for use in drainage systems, both have long lifespans if installed and maintained properly, and both conform to the relevant standards and specifications designed to ensure they are fit for purpose. So why should you choose ULTRA3 over concrete then? Here's where we have to ask our final question.
What makes ULTRA3 so special?
ULTRA3 pipework is an SN8 rated thermoplastic structured wall pipe manufactured from PVC-U certified to BS-EN 13476-2. Available in 110mm – 630mm (OD) ULTRA3 can be used in house drainage (110 – 160mm OD - 6m lengths), adoptable sewers (160mm – 315mm OD - 3m lengths) and for large diameter installations (400mm – 630mm OD - 3m lengths).
But ULTRA3 isn't just a pipe, it's a system! It's a system that combines kitemarked BS EN 13476-2 pipe with kitemarked BS EN 1401-1 fittings to create an SN8 system. This means that the full system has kitemark certification, which is the main recognized standard in product approval, whereas other systems are likely to require a BBA certification for their range of fittings instead. It provides a strong, lightweight pipe network with an extensive range of fittings, that can be used in conjunction with PPIC and AXEDO chambers, as well as traditional brick and concrete manholes, to make a complete adoptable sewer system. The large diameter ULTRA3 pipes (400mm, 500mm & 630mm) are ideal for use in place of heavy concrete pipes, with the benefit of being quicker to install and a reduced health and safety risk.
Key features and benefits of ULTRA3 include:
A complete system of PVC-U pipe and fittings from 100/110mm to 600/630mm (ID/OD).
Lightweight SN8-rated pipework, manufactured with an intermediary layer of at least 40% recycled PVC, certified to BS EN 13476-2.
Fittings certified to BS EN 1401-1.
Pre-installed integral seal for peace of mind when connecting fittings and reducing install issues.
Direct connections to PPIC, AXEDO & pre-formed concrete bases without additional adaptors.
Provides safer & easier handling on site and a reduced carbon footprint compared to alternative systems.
Approved and accepted by Water Authorities across the UK.
Design and Construction Guidance, Sewers for Adoption and Sewers for Scotland under its generic name of; Thermoplastic Structured Wall Sewer Pipe in sections E 2.22 & 4.2.22 were relevant.
Available nationwide from JDP's extensive branch and delivery network.
Another key accolade for ULTRA3 is that, after extensive testing, it has proven to exceed the requirements of WIS 4-35-01, which outlines additional testing requirements for thermoplastic structured wall pipes in accordance with Sewers for Adoption and Sewers for Scotland.
This standard covers three areas of testing:
Resistance to internal puncture test
Resistance to water jetting test
Longitudinal bending test
ULTRA3 is also the first PVC-U pipe that has been independently tested by the WRc and exceeds 4000psi jetting pressure.
In Summary
Plastic and Concrete are both suitable materials for strong, long lasting drainage pipes, and the decision of which is best to use will often depend on the installation location, the type of system being created and personal preference.
What ULTRA3 can offer though is more than just a suitable pipe; it's a complete system. It's all the benefits of plastic pipes with the knowledge that your entire drainage system is designed to fit together perfectly, from 110mm to 630mm and everything in between.
As one of the UK's leading experts in drainage and water management, JDP provides design advice and support for underground drainage systems to effectively manage foul and surface water. We believe the most effective system is a completely integrated approach using a combination of products. Our Technical Support team offers take-off and drainage system design services, environmental and legislative support, and advice for housing developments, commercial and industrial buildings, and civil engineering projects to offer the best solution. With modern products, state-of-the-art technology and nationwide branch network, JDP aims to minimise costs with in-depth design and technical help for projects whether a new scheme or existing developments.
For more help and support regarding ULTRA-3 or concrete systems, contact the experts at JDP today.