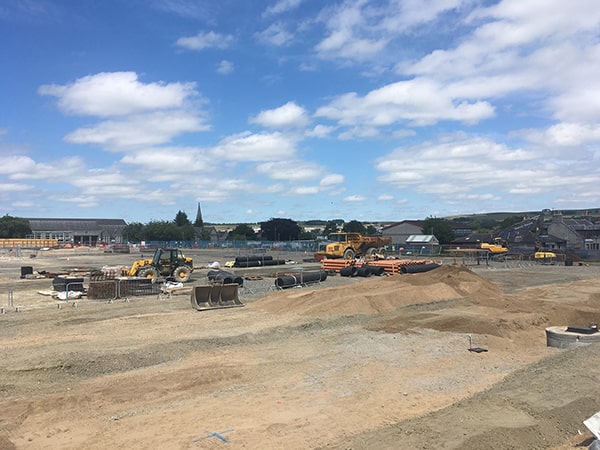 The combination of JDP's product innovation and local stock availability, has resulted in a 20% cost saving for one of the biggest school construction projects in Scotland.
The new Inverurie Community Campus, due to open in 2020, will provide space for 1,600 pupils. The site will also feature new indoor pitches, a health centre and a range of amenities for the wider community. St Andrews Special School, that provides education and support for children with a range of barriers to learning, will also benefit from new accommodation.
To kick-start the project, JDP was able to provide David Smith Contractors — one of the project's contractors — with a complete range of underground drainage systems. Caroline Lee, Regional Sales Office Supervisor at JDP explains: "JDP focuses on providing exceptional service and specialist support to the industry, and for this project it was no different."
Tony Lynch, Customer Experience Manager adds, "We want to make sure our customers have the best experience possible when they buy from us. JDP continues to invest in extensive stock levels to ensure hyper-local availability. Stocking over 15,000 products, and a complete range conveniently located at the Inverurie branch, meant we were always close to the project and ready to serve".
Having the opportunity to supply the entire site also meant further cost savings could be made, and JDP also helped to overcome on-site challenges at the same time. "Space on-site has been a huge issue, so holding goods nearby for the contractor, enabled further efficiencies, and provided added peace of mind", Caroline Lee said.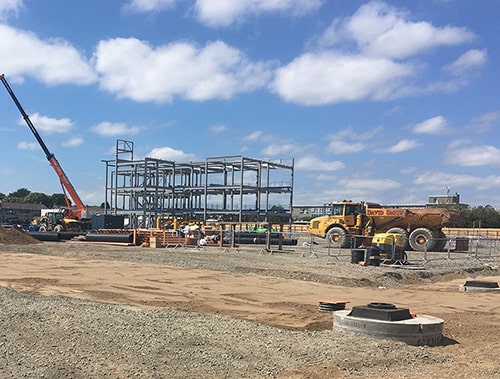 ULTRA3: cost-efficient and sustainable
Thanks to its full combination of fittings, ULTRA3 was a key component to the underground sewer drainage system provided by JDP. The range offers both environmental and time-saving benefits. "ULTRA3 saves money throughout the project compared to equal alternatives. David Smith contractors have two drainage squads and had both separately contacted the contracts manager to say how easy it was to install and comment on how robust it was", said Caroline.
The range of SN8-rated 110mm to 315mm products offers a single system for underground drainage and can be used in both plot drainage and adoptable sewer applications.
ULTRA3 products are made from recycled materials and are lightweight, which reduces not only installation time but reduces CO2 emissions too — as more products can be stored during delivery. The system is a natural choice for projects focused on sustainability and supporting the environment.