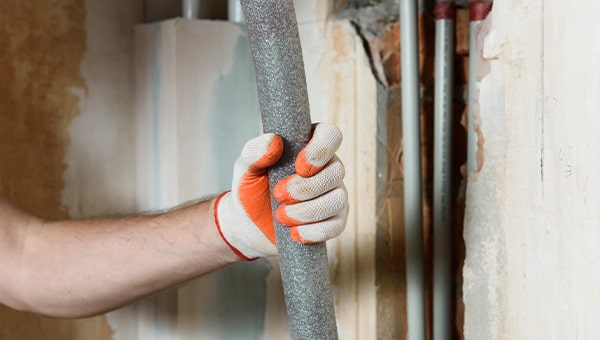 As the winter months draw in and the temperature begins to drop, the risk of your water pipes freezing, and potentially bursting, dramatically increases. The last thing any of us need is to have water falling through the ceiling instead of the tap. Thankfully, this is a problem that can be easily avoided with a little bit of knowledge and some simple DIY.
By following the tips in this article, you should be able to quickly and cheaply get your home fully winter-proof and ready to take on the frost.
JDP's 10 Quick Tips:
1: Locate your stop tap
Knowing where this is and how to use it will save you valuable time in an emergency. It's most often located under your kitchen sink, but can occasionally be hidden away in other less obvious places, so get it found ahead of time and panic less in an emergency. Turn the tap to the right to shut the water supply off and to the left to open it up again (for most taps).
2: Lag your pipes
Water pipes are highly susceptible to freezing temperatures unless properly insulated. Protecting them with inexpensive foam or rubber lagging is the best way to do this. Check out our handy how to lag your pipes guide to see how you can easily do this yourself.
3: Service your boiler
The cold weather can put an extra strain on your boiler. Keep your heating system running in tip-top shape by having the boiler annually serviced (ideally before the winter months set in) by a qualified heating engineer, and avoid any nasty, chilly surprises when the frosty mornings come.
4: Leave your heating on low
Don't be tempted to try and save the pennies by only having the heating on when you are in the house and awake. Keeping your heating on at a minimum of 14 degrees centigrade will help keep the cold weather at bay and prevent your pipes from freezing.
5: Bleed your radiators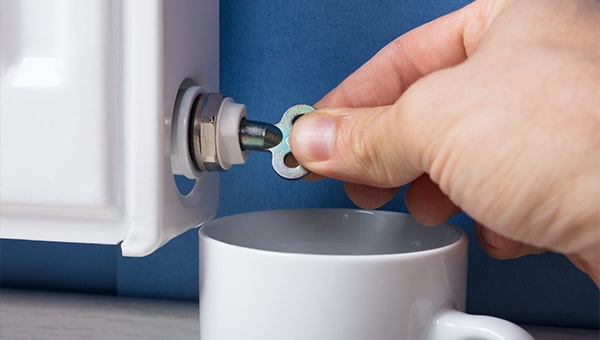 Air in the radiators can slow down the time it takes to warm your house and put extra strain on your boiler. Grab a radiator bleed key and a cloth (to catch the drips) and get bleeding those radiators to keep the system working efficiently.
6: Fix dripping taps
A dripping tap can increase the chances of water freezing and causing blockages. Get any leaks and drips fixed before cold weather comes. Most drips can be easily fixed by replacing the washers in the tap. There are plenty of "how-to guides" online for every type of tap, meaning you should be able to do this yourself without needing to call in a plumber.
7: Disconnect your garden hose
If left connected to an external tap, the water in the hose pipe will almost certainly freeze when the temperature drops, which can ruin both your hose and the tap. In extreme cases, it can also cause damage to the internal pipes that connect to it. It's always better to be safe than sorry. Disconnect it, drain out the water and store it away if you don't need it.
8: Clear drains and gutters
If your gullies and gutters get clogged up with leaves, clumps of moss and other debris, it can cause blockages in your drainage system. Such blockages can cause water to back up, sometimes into your property, and leave you in a mess. When that water then freezes in the winter, it can cause a lot of damage. Avoid all this by regularly cleaning out your gutters, gullies, grids and drains. If you find you have a blockage, follow our "how to clear blocked gullies" guide to see how you can fix the problem yourself.
9: Insulate your home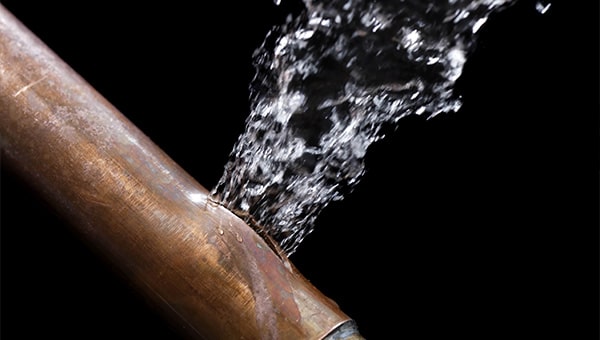 As well as insulating your pipes with lagging, you should also consider insulating your loft. A great deal of heat can be lost through the roof of your home; heat that is costing you money. When this heat is allowed to escape, your heating system has to work even harder to keep a consistent temperature in your house. You can prevent this, and save on your heating bill, by properly insulating your loft.
10: Plan for emergencies
Staying calm in an emergency, such as a burst water pipe flooding your home, can be incredibly difficult. But having a plan of action already in place can really make all the difference. Having the contact details for your insurance company, and/or a local plumber, readily to hand alone can save you a lot of stress. An example template is available on the gov.co.uk website to help you get started.
Bonus tips - how to protect your house if you are going away this winter
If you are planning on leaving your home unoccupied any period of time over the winter months it's a good idea to turn your water supply off, using your internal stop tap, and let your taps run dry before you go. You may want to flush your toilets a few times to empty the cisterns as well... just to be on the safe side. Doing so will help protect your home from frozen and burst pipes while you are away. It may be a pain having to turn back on again when you return but it's a lot better than returning to a new indoor swimming pool and huge water bill if a pipe was to burst while you were gone.
Leaving your heating on low, even while you are away, can also help prevent pipes from freezing. If you don't like the thought of doing this your other option would be to drain down your heating system to further limit the amount of water in your pipes that could potentially freeze. To do this, however, we'd recommend getting advice from a qualified plumber.
Finally, if you are going away for more than a couple of days, it's worth giving a spare key to a friend or neighbour and asking them to pop round regularly to check for any problems. If you don't feel comfortable leaving a key with a neighbour, then at least make sure you leave them the contact details of someone who does have a key in case of an emergency.
So there we have it. Those are our 10 quick tips to winter-proof your home and help you prepare for the cold weather setting in. We hope you found it helpful and informative!
If you would like a more detailed explanation of these points check out our how to prepare your pipes for winter guide, and our advice on how to spot signs of your pipes being frozen and what to do if they burst. As always, if you have any questions or need any further advice about your water pipes and how to prepare for winter, contact JDP today. Our technical team is always on hand to help with all of your drainage needs.