Our environment is precious and JDP is committed to reducing the impact of both its products and business activities have upon it. This commitment is driven by the determination to do so without compromising product quality or service levels provided to our customers.
Inspection chambers are required where systems join, or there is a change in direction. This is because, where the flow characteristics change, there is a more significant chance for debris to accumulate and cause a blockage. Other specific requirements are where there is a horizontal change of direction that is over 30 degrees or over 90m in an uninterrupted run.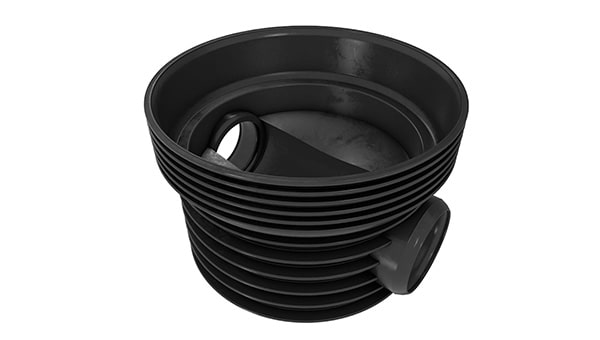 All things considered, this can lead to a large number of access fittings and traditional man entry manholes needing to be installed in even the simplest of systems, which can greatly increase costs, time and, crucially, the carbon footprint of a project. However, this doesn't need to be the case.
Any time workers have to enter a confined space, especially underground, there is a risk. The AXEDO range of non-entry inspection chambers (NICs) improves worker safety by enabling non-entry access for inspection, maintenance and repair. But improved health and safety isn't the only benefit to using AXEDO; it can also help reduce carbon emissions on a project.
AXEDO NICs are significantly lighter than traditional materials, such as concrete, with no loss of service life or performance. This means that even in delivery to site, they reduce the CO2 of the delivery vehicles.
The difference on site is even more pronounced. While a concrete inspection chamber requires expensive heavy machinery for handling on-site, at 25kg AXEDO can be safely manually handled into place. This reduces both the vehicles' cost and carbon output on-site, to say nothing of the potential costs incurred in delivering them. Read our dedicated article on AXEDO® 600 vs Concrete Manhole Rings.
Next, there is the human cost. All work gangs bear a cost per day in both monetary and carbon terms. An AXEDO project, fully adoptable across the UK, can be installed up to four times faster than a traditional concrete inspection chamber, especially when combined with our 40% recycled ULTRA3 sewer/drainage pipes.
So, apart from reducing the carbon footprint of your project, adoptable or not, JDP can also reduce the cost in the ground and the time it takes to install.