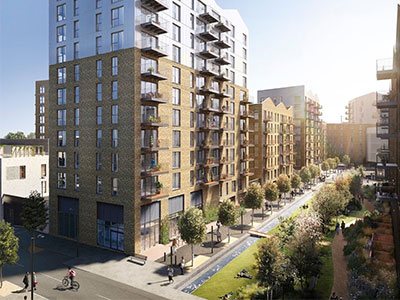 Sustainable concrete drainage systems, by JDP and manufacturing partner Tracey Concrete, have been installed as part of a 1,100 new home and commercial development at The Timberyard, Deptford, London.
The former industrial site, with a rich timber heritage and Royal Dockyard founded by King Henry VIII in 1513, is being transformed into a new urban community and features almost 100,000 sq ft of flexible retail and work space.
Each contemporary building is surrounded by 28 acres of existing parkland, enhanced with environmental incentives to introduce new wildlife to the area, and nestled between 300 new trees, private courtyards and parks as well as green roof areas.
Underground, the foul and surface water systems consist of robust concrete drainage products.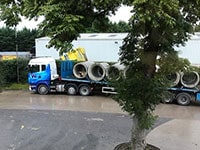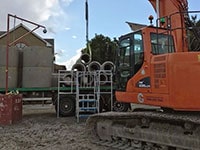 Selected due to the nature of the project, its proximity to existing systems, and local authority legislative requirements, concrete drainage from JDP and its manufacturing partners ensure a long system life and a sustainable supply chain.
1200mm concrete pipe, and a range of 1200 to 2400 DN concrete chambers with cover slabs, make up the system that was overseen by JDP's Technical Support department to ensure efficient value engineering. Tom House, JDP Technical Support Supervisor, believes concrete has a purpose in modern drainage systems.
Buy concrete manhole rings online from JDP
"By working closely with world leading manufacturers, JDP is able to offer sustainable products that offer tangible benefits to customers when it comes to high quality drainage.
"Despite a bad reputation for being environmentally unfriendly, new developments in design, manufacture and locally sourced materials ensures new concrete products are sustainable for when these products are specified and required on projects."
JDP works closely with world leading manufacturers to make sure products are sustainable throughout the supply chain. With Perfect Bases, custom made manhole chambers can decrease both install times and costs without causing delays in projects..
View JDP's Making of a Perfect Concrete Manhole video for an insight into making these concrete manholes.
Lendlease, the developer behind The Timberyard, is a leader in sustainable urban generation. The project is due for completion by 2019.