What are rectangular concrete chamber sections?
JDP provide a range of rectangular concrete chamber sections usually used to quickly build a chamber to access utility valves, hydrants and other pipework, or to act as shuttering around another chamber.
They are traditionally used in favour of brick-built chambers, but often superceded by plastic inspection chambers (which are lighter, easier to handle, less resistant to breakage and easier to cut through walls).
Chambers using 600 x 450mm through 1000 x 675mm sections are considered non-man entry, and steps are not required.
Features & Benefits
Easy and quick to install when compared to a brick built chamber
Concrete sections to take dug out material or concrete backfill
Easy access when installed
Various sizes available
Standards
Chamber sections and cover slabs are manufactured to BS EN 1917 / BS 5911. Rectangular covers and cover surrounds are manufactured to satisfy Class A15 loading situations to BS EN 124. All units are sulfate resistance class 4.
Heavy duty - cover slabs may be used together with the appropriate duty proprietary cover and frame in main road applications, equivalent to a wheel load of 112kN.
Concrete House Inspection Chambers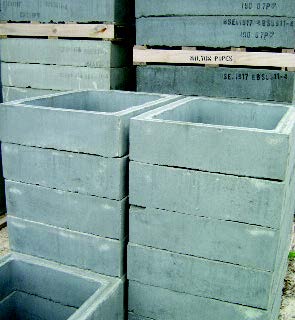 | Size (mm) | Effective Depth (mm) | Wall Thickness (mm) | Nominal Weight (kg) | Number per Pallet | Code |
| --- | --- | --- | --- | --- | --- |
| 600 x 450 | 152 | 51 | 45 | 32 | 18016045150HIC |
| 600 x 450 | 229 | 51 | 65 | 20 | 18016045225HIC |
| 600 x 450 | 305 | 51 | 85 | 16 | 18016045300HIC |
| 750 x 600 | 152 | 60 | 65 | 18 | 18017560150HIC |
| 750 x 600 | 229 | 60 | 100 | 12 | 18017560225HIC |
| 1000 x 675 | 152 | 64 | 85 | 16 | 18011067150HIC |
| 1000 x 675 | 229 | 64 | 125 | 10 | 18011067225HIC |
| 1200 x 750 | 150 | 75 | 115 | 8 | 18011200RHHS |
House Inspection Chamber Top Section
(with concrete cover)
| Size (mm) | Access (mm) | Wall Thickness (mm) | Nominal Weight (kg) | Number per Pallet | Code |
| --- | --- | --- | --- | --- | --- |
| 600 x 450 | 600 x 450 | 110 | 103 | 16 | 18016045CS |
| 750 x 600 | 600 x 450 | 122 | 121 | 12 | 18017560CS |
| 1000 x 675 | 600 x 450 | 140 | 162 | 12 | 18011067CS |