What are flexible couplers?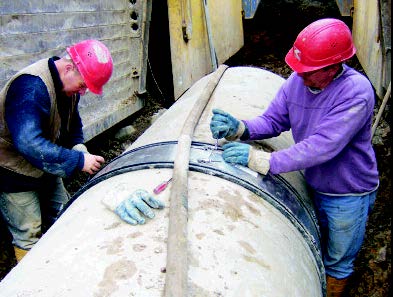 JDP offers a comprehensive range of pipe connection and repair couplers, bushes, puddle flanges and end stops. We provide the most extensive range of couplings available, specifically designed to connect and repair pipelines of different materials or sizes used in sewerage, drainage and other underground applications.
When excavation work is required to repair a damaged pipe, our couplings will reduce the amount of time required, and minor differences in pipe diameter can be accommodated. Larger diameter differences are installed using a suitably sized bush.
The combination of a durable design and excellent sealing properties enables our couplings to provide a reliable seal on rough pipe surfaces e.g. concrete, and a high performance seal on smooth surfaces e.g. PVCu.
Our couplings can be combined with bushes in order to act as an adaptor between pipelines of widely differing outside diameters. A bush will be required by the contractor when connecting pipes of different materials or sizes i.e. when outside diameters of the joints exceeds 12mm.
We can also supply standard couplings with nitrile sleeves.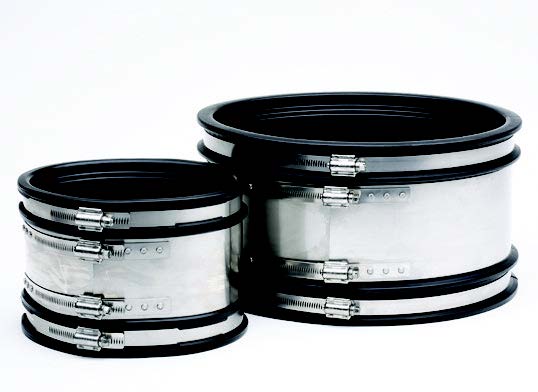 Features & Benefits
Durable design ensuring a high performance and reliable seal
Stainless steel shear band provides excellent resistance to heavy loads and shear forces
Reduces excavation work
Shear band ensures joint flexibility and pipe alignment
High performance sealing properties of the couplings eliminates need for grouting in most applications
WIS 4-41-01 approved
Applications
When used individually or combined with bushes, our couplings have many applications in the construction, repair and maintenance of pipe systems:
As a joint for plain ended pipes
Repair and maintenance of existing pipelines
Connecting short and cut lengths of pipe
Making post construction connections to an existing pipeline
Reconnection of laterals on renovated sewers
Introducing rocker pipe outside manholes or structures