A comprehensive range of vitrified clay pipe for underground drainage; from DN375 to DN600 in accordance with EN 295-1 System N, with an extensive range of pipes and fittings, including bends, junctions and tapers.
Features & Benefits
Extremely durable
Quick installation by manual pushfit operation
Flexible joints allow for minor settlement
Minimum granular bedding required
Nitrile seals available for contaminated ground
Accommodates controlled discharges up to 75°C
Applications
Foul sewerage
Surface water
Road drainage
Aggressive environments
The standard pipes, polyester fairings and elastomeric sealing rings are resistant to all forms of attack from substances which are commonly encountered in public sewers. Where more aggressive effluents or environments are present, special sealing rings may be required. Alternatively Hathernware clay pipes should be considered. Hathernware is a specialist Chemical Drainage System that covers the most aggressive discharges and extreme conditions, including thermal shock – a phenomenon where extremes of temperature variation can put significant structural strain on a drainage system. Contact us for more information on using clay in aggressive environments.
Standards
Clayware
Vitrified clay pipes and fittings manufactured in accordance with the requirements of BS EN 295-1. Kitemark No. KM 20173.
Joints
All pipes consist of a factory fitted grade 316 stainless steel sleeve a 5 bar rated EPDM self-lubricated seal.
Pipe
Installation
Check the pipes and fittings to ensure that they have suffered no damage, ensuring that the spigot and socket are clean and free of any grit.
Insert the spigot end into the stainless steel sleeve and lower the pipe on to the pipe bedding by the means of a cloth strap around the centre of the pipe. There is no requirement for any lubricant as EPDM seals are self lubricating.
Insert a suitable wooden packer into the stainless steel sleeve and pply an equal mechanical force onto the pipe end. The pipe is fully home in the sleeve when there is a 5mm gap between the sleeve and the pipe rebait.
Test the pipe and joint after installation of every three pipes in accordance with BS EN 195 Cluase 5.18: Air Tightness.
Clay Jacking Pipes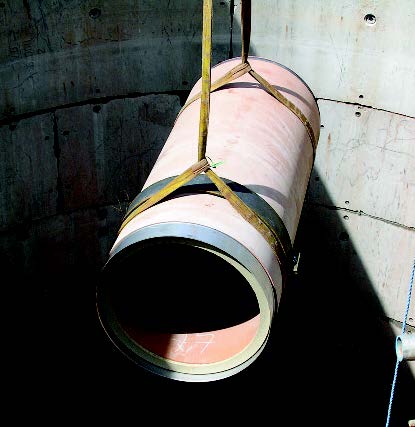 Vitrified clay pipes have been in production for over a 100 years meeting the needs of water borne sewerage systems. JDP offer a modern vitrified clay jacking pipe system that has been developed to meet the requirements of pipe installations by trenchless construction methods.
These systems may be used for a number of methods; Microtunneling (pipe jacking), Guided Auger Boring, Pipe Bursting, Pipe Eating and Slip Lining.
Features & Benefits
Existing networks of utility services are usually found in cities and crowded urban areas, where pipelines in need of replacement or expansion are located below roads and buildings or interwoven with other services. Trenchless Technology greatly reduces the need for surface excavation which in turn minimises traffic congestion and built environment disruption.
Traditional 'Open Cut' installations
This form of Installation is characterised by the high level of physical work that is carried out.
Excavation of a trench, removal of spoil, temporary supports
Laying and jointing of pipeline on specified bedding material
Refilling the trench, compacting fill materials, removal of surplus spoil
Restoring the above ground infrastructure
Typically 50 times the amount of spoil that the new pipeline will occupy has to be removed and then refilled again after the pipeline is laid.
As well as being very labour intensive, various skills possibly from several companies and authorities may need to be co-ordinated.
Trenchless Technology Installations
Access using trenchless techniques also requires surface work, but not to the scale of the open trench approach. In comparison trenchless projects are characterised by:-
Less indirect costs, because surface access is less disruptive
Projects are generally of shorter duration, therefore social and environmental costs are considerably reduced
Public awareness of disruption is lessened due to concealment of the works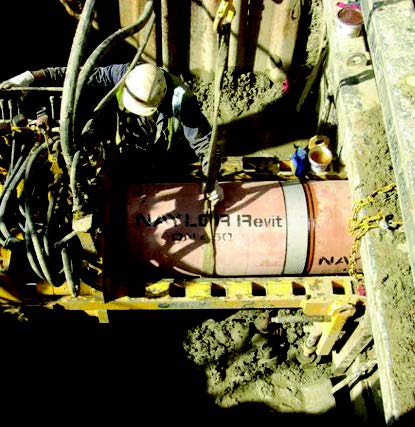 Trenchless Techniques
Pipe Jacking - spoil and water is removed by pumping as slurry
Guided Auger Boring - spoil is removed by an auger through a steel casing
Pipe Bursting - the existing pipeline is forced into bedding material by means of an expanding hydraulic cone at the head of the replacement pipeline
Pipe Eating - the existing pipeline is ground using a cutting head and fragments are removed by augers through the replacement pipeline
Slip Lining - the replacement pipeline is winched through an existing pipe and the void between old and new is filled with grout
Standards
All pipes and assemblies are manufactured in accordance with:
BS EN 295-7 Requirements for vitrified clay pipes and joints for pipe jacking
BS EN 12889: 2000 Trenchless construction and testing of drains and sewers
Jacking Pipes
with polypropylene sleeve coupling and moulded-in EPDM rubber seals
| Nominal size DN (mm) | Effective Length (mm) | Approx. Weight Kg/m |
| --- | --- | --- |
| 150 | 996 | 45 |
Jacking Pipes
with stainless steel sleeve coupling and integral EPDM elastomer sleeve moulding
This joint system is especially beneficial for smaller diameter jacking pipes as the joint system can accommodate better storage extremes.
| Nominal size DN (mm) | Effective Length (mm) | Approx. Weight Kg/m |
| --- | --- | --- |
| 200 | 996 | 60 |
| 225 | 996 | 80 |
| 250 | 996 | 100 |
| 300 | 996 | 120 |
Jacking Pipes
with stainless steel sleeve, EPDM elastomer seals and factory fitted packing ring
This joint system is capable of achieving a minimum 2 bar internal/external pressure.
| Nominal size DN (mm) | Effective Length (mm) | Approx. Weight Kg/m |
| --- | --- | --- |
| 400 | 984/1984 | 240 |
| 450 | 984/1984 | 250 |
| 500 | 984/1984 | 260 |
| 525 | 984/1984 | 280 |
| 600 | 984/1984 | 338 |
| 700 | 984/1984 | 430 |
| 800 | 984/1984 | 508 |
| 900 | 984/1984 | 680 |
| 1000 | 984/1984 | 800 |
| 1100 | 984/1984 | 967 |
| 1200 | 984/1984 | 1170 |
Jacking Pipes
with stainless steel sleeve, EPDM elastomer seals and factory fitted packing ring
These jacking pipes are designed for installation by either the 3-pass guided auger boring or pipe bursting.
| Nominal size DN (mm) | Effective Length (mm) |
| --- | --- |
| 400 | 149 |
| 450 | 202 |
| 500 | 232 |