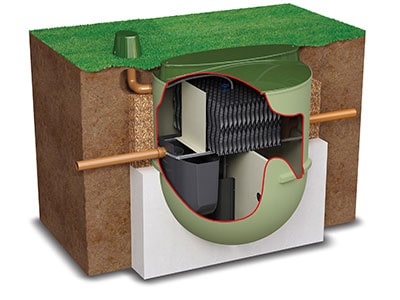 By the 1st January 2020 all septic tanks that discharge into a watercourse or a ditch will need to be replaced. The Environment Agency has set this date as the final date, any property that is sold before this date will have to replace the septic tank with a sewage treatment system. It is estimated that 60% of sites will fail the new legislations.
The legislation changes only affect discharge systems in England only. Systems in Scotland are regulated by SEPA (Scottish Environment Protection Agency), and systems in Wales by the NRW (National Resources Wales), and legislation in these countries remain unchanged.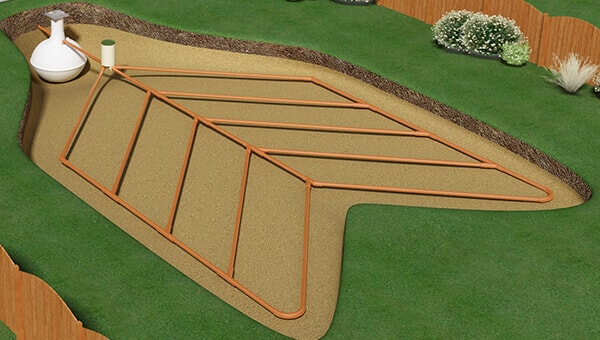 Unsure if your system is compliant?
JDP has prepared a sewage discharge compliance bot that can guide you step-by-step whether your system is compliant with the Environment Agency's General Binding Rules. Click below to start!
Sewage Discharge Step-by-Step Guide
Rules for using septic tanks and small sewage treatment plants
In January 2015, new rules were introduced that simplified the way septic tanks and small sewage treatment plants are regulated in England, protecting the environment and improving water quality.
If you have a septic tank or small sewage treatment plant, by law you must comply with the 'general binding rules' by ensuring your system is maintained properly and does not cause pollution.
Extra protection is in place in areas designated as environmentally sensitive, where people may need to apply for a permit.
What are septic tanks and small sewage treatment plants
If your home or business is not connected to the mains sewage system, the waste water from your toilets, baths, showers, sinks and washing machines will drain into one of the following systems:
SEPTIC TANKS are underground tanks where solids sink to the bottom forming sludge and the liquid flows into a drainage field where bacteria treat it as it soaks into the ground. They're not allowed to discharge into a watercourse.
SMALL SEWAGE TREATMENT PLANTS work in a similar way to septic tanks but use mechanical parts to aerate the bacteria, which makes them more effective at treating waste water and means they can discharge treated sewage into a drainage field or directly into flowing water.
CESSPITS/CESSPOOLS are different because the raw sewage is stored in a sealed tank, rather than being treated and discharged, which means they are not covered by the general binding rules. They must be emptied when full and must not be allowed to overflow or leak.
How to follow the rules and protect your local environment
It's easy to comply with the general binding rules. Here are the main things you need to do:
Have your system emptied by a registered waste carrier regularly (at least once a year unless the manufacturer says otherwise) to ensure it doesn't cause pollution.
Maintain your system regularly, getting any faults or problems fixed immediately
You are limited to discharging a maximum of 2,000 litres of treated sewage per day into the ground or 5,000 litres of treated sewage per day to flowing water. If you discharge more you will need a permit. (Calculate how much your system is discharging at www.gov.uk/small-sewage-rules)
Speak to the Environment Agency before installing a new system as you may need a permit. Speak to your local council to check your system will meet planning requirements and building regulations.
Only install equipment that meets British Standard BS EN 12566.
If you sell your property, inform the buyer in writing that it has a septic tank or small sewage treatment plant.
Change to a low water consumption washing machine and reduce water levels for small laundry loads.
Don't run a half-empty dishwasher.
Toilets account for over 35% of all the water used in the home, water which overloads your soakaway. Fit dual flush toilets, use a 'hippo' or, even better, convert your existing toilet to an 'eco' toilet with an INTERFLUSH conversion kit to reduce the amount of water needed to flush to the absolute minimum. The interflush is a kit which fits on top of your WC siphon and connects to the front mounted flush handle. The toilet only flushes when the handles is held down releasing the handle stops the flush (when pan is clear). It only uses the exact amount of water required, any less and the toilet would need flushing again. That is why nothing can flush a toilet with less water.
Keep trees away from the septic system
Discourage root damage by keeping trees at least 30 metres away from the soakaway.
Trees with very aggressive roots, such as willows and poplars should be even farther away from the system.
Don't use your toilet and sink as a rubbish bin
Never flush cat litter, disposable nappies, sanitary towels, tampons, paper towels, facial tissues, coffee grounds, or cigarette ends down the toilet. They'll clog your septic tank in less time than you might think.
Don't install a waste disposal unit as these can double the amount of solids going into the septic tank.
Be sensible with cleaning and disinfection products and what you pour down the sink
Overuse of Anti-Bacterials, disinfectants and heavy cleaners will kill the beneficial bacteria in the septic tank which digest your solids.
Don't use anti-bacterial hand wash products as you are poisoning your septic tank bacteria with every wash.
Do not pour grease or oil down the sink. Wipe greasy dishes with paper towels before washing.
Grease clogs the septic tank soakaway, and effectively 'waterproofs' it, making it impossible for soil to absorb liquids. If that happens you'll need a new soakaway.
White spirit, varnish, paint thinners, motor oils, petrol, and other similar chemicals will ruin your septic system and are not easily broken down by soil bacteria. They will pollute groundwater.
Condensate from condensing boilers is very acidic and must not go into the foul drains.
Protect your soakaway
Do not drive over the soakaway, build a structure on top of it, or cover it with concrete or tarmac. Gravel is ok, but only for foot traffic.
Sow grass over the soakaway area, if possible, as grass takes up a lot of water.
Maintain your septic system
Go to www.gov.uk/small-sewage-rules for more information, if you are unable to follow the rules, are worried your system may be causing pollution or want to check if your system needs a permit.
Maintaining your system properly will help prevent pollution, avoid costly repair bills and minimise your energy consumption. Here's how:
Get the sludge emptied regularly by a registered waste carrier
Get it serviced regularly by an accredited engineer and fix problems straight away
Regularly check for signs of pollution such as sewage smells, pools of water, sludge, foam, lush weeds or grey fungus growing in your local stream or river. If you spot any of these issues call a specialist for help
Don't flush sanitary items, nappies, 'flushable' wipes or similar objects down the toilet as they can block the system
Don't put fats, oils or chemicals down the drain as they kill the bacteria that break-down the waste
Use low or no-phosphate detergents, which are kinder to the environment
Keep maintenance records so you know when to service and empty your system
The Environment Agency
Email: enquiries@environment-agency.gov.uk
Telephone: 03708 506 506 (8am to 6pm, Mon to Fri)
Online: www.gov.uk/small-sewage-rules
Incident hotline: 0800 80 70 60 (24 hours, 7 days a week)
Local wastewater service companies: Find an accredited engineer and further guidance at www.britishwater.co.uk/directory/findengineer
Speak to your local branch for specific opening time and operational information for your area.
Find your local branch