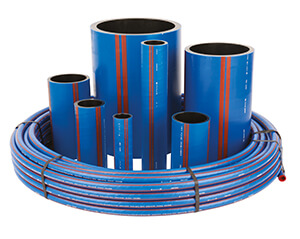 Building upon and re-developing brownfield sites is becoming a more popular route for new housing estates and commercial developments in the UK, and repurposing sites previously considered unsuitable for construction is now possible due to advancements in products and technology.
SLA® Barrier Pipe is one such advancement, where it allows the safe transportation of drinking water through contaminated land with its in-built layer of aluminium preventing contaminants from entering the water supply.
Available across the JDP branch network in sizes from 25 to 630mm diameters, SLA® Barrier Pipe is a simple choice with its innovative fittings and adaptors.
For residential water supplies (diameters 25mm - 180mm) push-fit, gunmetal compression and hydraulic compression fittings can be used instead of the traditional - and lengthy - butt welding or electrofusion connections.
Discover SLA® Barrier Pipe