Hauraton industrial channel drainage solutions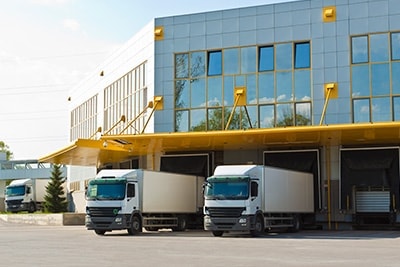 Not all channel drainage is suitable for use in logistics and distribution industries, and in heavy duty trafficked areas such as docks, warehouses and distribution centres it's essential to get the right product - delays for repairs or flooding could prove costly.
Channel drainage comes in a variety of different sizes, strengths and materials. Only some of these drainage solutions are suitable for use in docks, warehouse and distribution centres. As these are usually high trafficked areas with the use of heavy machinery, it is important that a robust drainage channel is installed. For these areas, we recommend using a channel drain with a minimum load class of E600, meaning it is able to withstand up to 60 tonnes of static load weight.
A range of different Hauraton channel drains are used in these areas; notably, RECYFIX HICAP, FASERFIX KS and RECYFIX NC are considered the product-of-choice.
RECYFIX NC
An extremely stable and lightweight linear drain, RECYFIX NC has grating options available with a load class up to E600. The PP channel body has a much lower weight than polymer concrete, meaning it is easy to lift and fit without the use of heavy machinery, and can be cut, drilled and worked easily on site.
This affordable drainage comes pre-assembled and ready for installation, with an integrated ductile iron grating. The angle housing features ridges to stop any lateral movement, making it suitable for the civil engineering industry and high heavy traffic areas such as docks and warehouses.
RECYFIX NC is a 100% environmentally friendly alternative to concrete drains. Made from recycled and recyclable polypropylene, these channel drains are a great choice for use in projects where planning and operations are subject to stringent environmental requirements, such as installations in environmentally sensitive areas.
The main disadvantage to using RECYFIX NC is the highest loading class available is E600, which does not allow for forces greater than 60 tonnes. However, for installation in docks, warehouses and distribution centres, the E600 class tends to be the specified loading. If the project requires channel drains that withstand a weight greater than 60 tonnes, then a drain with the highest loading class of F900 is required such as Hauraton FASERFIX KS and FASERFIX SUPER.
Discover Hauraton RECYFIX NC products
FASERFIX KS & FASERFIX SUPER
The FASERFIX KS and FASERFIX SUPER are fibre reinforced concrete channel drains with a load class up to F900, depending on the type of grating installed. These high-quality channels are manufactured in Germany to high specifications and maintain maximum stability through fibre reinforced concrete, with 20mm protective angle housing on the KS and 40mm on the SUPER. This provides additional protection against lateral movement.
One advantage of using FASERFIX drains is the flexible design options available, due to the variety of different gratings, including ductile iron, composite, galvanised or stainless steel. This means that the same channel can be laid across a project with grating options to suit individual areas; a heelsafe grating option can be installed in pedestrian areas without causing accidents, C250 gratings can be used in the car park, and E600 gratings can be installed in loading areas. These drains can also be installed in asphalted surface up to class E600 without the need for a concrete stretcher.
FASERFIX heavy-duty drainage systems are not as environmentally friendly as polypropylene drains, due to the use of concrete as a base material. Additionally, these drains cannot be easily lifted, cut to size or drilled on-site, making installation of these drains more difficult.
Discover Hauraton FASERFIX products
RECYFIX HICAP
This high capacity heavy duty channel drain is available in load classes from D400 to F900 and offers a combination of slot drainage design, offering a discreet look, while the high capacity channel body allows for both drainage and retention in one component. As with the RECYFIX NC, these drains are made entirely from recycled and recyclable polypropylene, making them an environmentally friendly alternative to concrete channels.
These slot drains feature a discreet inlet made from high-quality ductile iron, giving them a much higher tensile and compressive strength than channels made of polymer concrete. This makes them ideal for drainage and retention in the highest load areas, such as airports, industrial estates and container terminals.
As with RECYFIX NC, these channel drains are suitable for use in projects where environmental considerations are important. In addition to this, one of the main benefits of RECYFIX HICAP is the high capacity channels, which not only drain the water but also retain it. These channels come in a variety of different widths, depending on the required water retention capacity.
Hauraton channel drainage used in docks
Ensuring robust channel drains are installed in ports and docks across the UK is vital to effectively manage surface water. A range of heavy-duty vehicles pass through these areas on a daily basis, including forklift trucks and HGVs which can weigh in excess of 40 tonnes. Surface water drainage solutions must be able to withstand the pressures of these environments, the variability of temperatures and air conditions, as well as storing a high level of water.
Royal Portbury Dock, Bristol
The Royal Portbury Dock, part of the Port of Bristol, is a major deepwater port and is used for importing and exporting motor vehicles into and out of the UK. This high trafficked port requires strong and resistant drainage to ensure surface water does not collect in the area.
578 metres of Hauraton FASERFIX SUPER 150 channels were installed along the redeveloped quayside and container handling area at the dock. These reinforced concrete channels were chosen due to having much thinner walls than competitors, while still being much stronger. The galvanised steel pressings, which are securely moulded on to the top edges of the channel, combined with F900 ductile iron gratings meant these channels have exceptional wear resistance and increased load bearing capability.
Read Royal Portbury Dock Case Study
Hauraton channel drainage used in warehouses
Adequate surface water drainage is important to ensure a safe and continuous working environment in warehouses. The load-bearing capabilities of Hauraton channel drains are specifically designed to withstand the forces from HGV traffic within warehouse environments.
Oil Salvage Terminal, Merseyside
Oil Salvage Ltd is an independent, family-run business offering a nationwide waste collection and fuel delivery service within the engineering, construction and automotive industries. This service requires strong and efficient surface drainage due to the high number of heavy tankers passing over the yard on a daily basis.
FASERFIX KS F900 channel drainage was chosen for this project due to their heavy load class and fibre reinforced concrete channels, which are able to withstand the pressure and lateral force imposed by the heavy tankers. About 180 metres of channel were installed in the newly-resurfaced service yard, with each piece having a cross-section of 509 cm2 and the ability to handle rainfall of 50mm per hour.
One of the main considerations for the Oil Salvage Terminal was the need to easily clean the channels of built-up debris. The SIDE-LOCK system of the Hauraton FASERFIX KS channel drains means the gratings are easy to remove, without the need for specialist tools, for easy access to the channels.
Read Oil Salvage Terminal Case Study
Hauraton channel drainage used in distribution centres
Distribution centres are a principal requirement of the entire order fulfilment process for many companies. To ensure the smooth running of these centres it is important that surface water is kept to a minimum, while channel drains must be strong enough to withstand the constant strain caused by vehicles in the service yard.
Trafford Point Distribution Facility, Manchester
Trafford Point Distribution Facility in Manchester is an industrial warehouse within the Trafford Park business park. This busy distribution centre is prime location for distribution and manufacturing operations due to its excellent road and rail links, as well as being close to Manchester Airport and the Ship Canal.
The redevelopment of this area required channel drainage to be fitted in the asphalt car park as well as the concrete service yard. Hauraton RECYFIX MONOTEC channels with a loading class of D400 were fitted within the car park area. However, the service yard required a more robust surface water drainage solution, in order to withstand the heavy forces imposed by the manoeuvring, parking, loading and unloading of heavy goods vehicles.
78 metres of RECYFIX HICAP 150 and 120 metres of RECYFIX HICAP 300 with 28mm wide slotted ductile iron gratings were installed in the service yard. This means that the load class for this area's channel drainage is F900, and therefore able to withstand 90 tonnes. RECYFIX channels were chosen for this project due to the lightweight nature of the product, meaning on-site lifting and fitting was simplified. Another advantage to RECYFIX drains was the need for fewer channel runs, less excavation work and the foundation concrete required was reduced.
Read Trafford Point Case Study
Hauraton industrial channel drainage is a high-quality solution to surface water drainage across a number of industries. RECYFIX NC, FASERFIX KS, FASERFIX SUPER and RECYFIX HICAP are all suitable for use in heavily trafficked environments. With superior lateral force resistance, easy cleaning and ease of assembly, Hauraton drainage solutions are more stable and efficient when compared to many competitors' products.
There are certain considerations which must be taken into account when choosing the right Hauraton channel drain for your project. RECYFIX products are best suited to situations where the environmental impact or water retention capacity is a consideration, whereas FASERFIX products are a better choice where easy cleaning is a priority.
If you're looking for channel drainage to use in another sector, and are unsure about which to use, find out how to choose the right channel drainage for your project.