JDP's Technical Support team worked closely with self- builder William Bimson to help overcome unique and historical site conditions while providing huge savings in planning and construction costs.
The site, on Monkhill Farm near Carlisle, features 5 residential properties but came with numerous issues to overcome before construction could start. The main issue being a Roman-era vallum; defensive fortifications of a military camp near Hadrian's Wall, that ran through the site, meaning certain restrictions had to be adhered to when designing the drainage systems.
What JDP did
The primary problem posed by the vallum was that no materials could be installed within its location below a certain depth, due to its archaeological significance, which would be too shallow for a standard gravity drainage design to be effective. JDP expertly proposed a bespoke split system design with two separate surface water discharges from site that, when combined, met with the maximum allowable discharge while avoiding the area of the vallum.
The design and proposal involved supplying the client with detailed Microdrainage calculations – the industry standard software for drainage design – and site plans to assist with the rigorous planning and approval process for this site.
Delivering a successful solution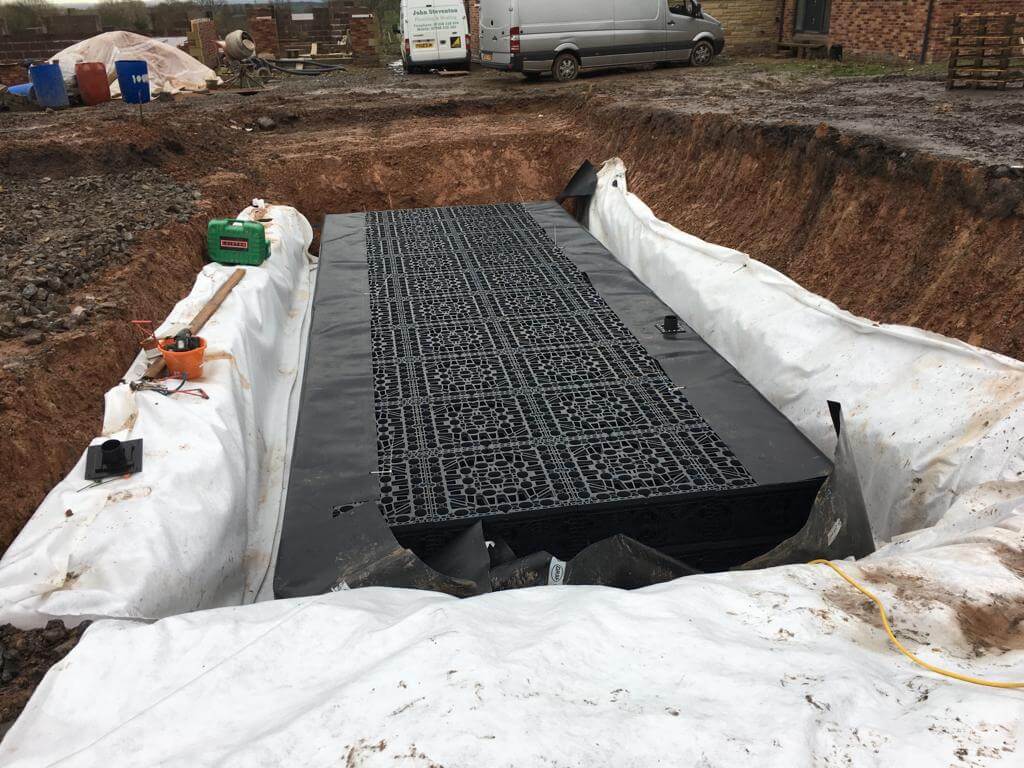 With extensive knowledge of water management, Technical Support were able to provide the client with a holistic approach to site constraints and requirements that reduced the need for local authority approvals, and offer a detailed, value engineered, alternative design to the original plan.
The JDP design included a wide range of drainage products that were perfectly suited for the project including: ULTRA3 pipework; AXEDO& inspection chambers; pumping stations and SuDS components.
A major part of the SuDS design involved the use of RAINBOX® Core system for an underground attenuation tank. The system was specified as the perfect solution for the client's need for cost effective, heavy-duty crates to accommodate any excess storm water in extreme rainfall events. The RAINBOX® Core system offers a high storage volume and flexible construction meaning it can be adapted to most site conditions. JDP supplied and installed the system ensuring the client, William Bimson, had complete confidence in the long term performance of the tank.
Testimonials
Gary Armstrong, from JDP Technical Support who led the project commented "We provided detailed calculations for the client to issue to the Planning Authority that enabled him to prove that the specific site stipulations had been met. By fully re-designing the system, we were able to provide adequate storage in a cost effective solution. The new proposal also saved the client valuable time on site in comparison to the initial design."
Mr Bimson stated, "JDP provided a first class service in designing and supplying the storm drain and treatment works at Monkhill. They helped solve problems nobody else could, save time and their support has been invaluable."
JDP's technical support services are available to JDP account customers, for big projects or small, free of charge.