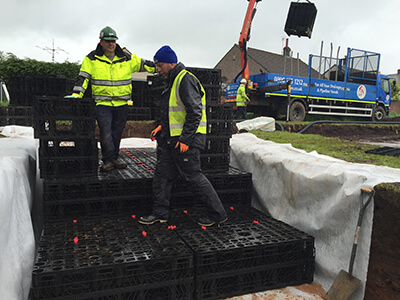 A new £110,000 all-weather facility at Bookwell School in Egremont, Cumbria, features first-class protection from localised flooding thanks to JDP's Technical Support team and the company's impressive RAINBOX3S attenuation crates.
Completed in June, the new MUGA (multi-use games area) features a four-lane running track and football, tennis, netball and cricket pitch markings.
Underneath the new pitch are 200 RAINBOX3S crates, delivered by JDP Longtown, to act as a soakaway that was designed by the Technical Support team at JDP.
Using topography reports, historical rainfall data and state-of-the-art technology the Technical Support team designs foul and surface water drainage systems that replace the areas covered by impermeable materials. Systems provide protection for 1-in-30, 1-in-50 or 1-in-100 year storms, depending on the project specifications.