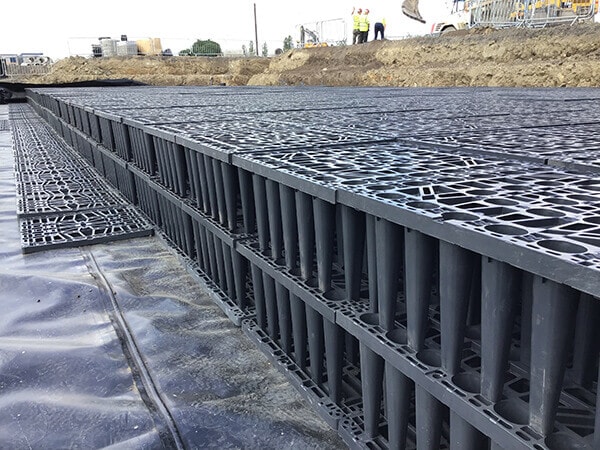 JDP worked closely with GRAF UK Ltd to value engineer, supply, deliver and install a large water management solution for a new residential development at Mirfield.
What we did
When it came to designing Mirfield's water attenuation system, RAINBOX® CORE crates were the ideal choice. They were a fundamental part of the design due to the 96% void ratio which means they're able to hold three times more water than a standard gravel infiltration ditch. Using these crates eliminates the need to excavate so much soil, saving time and money during installation.
The system offers real benefits in terms of reduced time on site, speed of installation, reducing transport and material costs, and reduced maintenance costs when compared with traditional alternatives such as stone filled pits.
It's also capable of holding excess run off from the extensive site during storms to protect the impressive new development.
Delivering a successful solution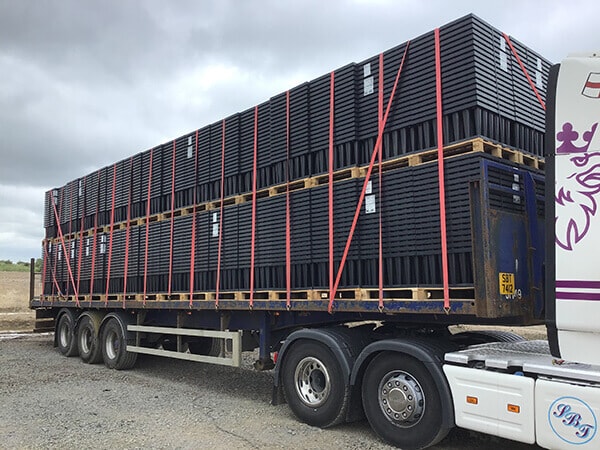 JDP's Technical Support team, based at Head Office in Carlisle, worked with GRAF UK to value engineer an existing attenuation system for the development which resulted in saving H&H Construction time and money during the project.
The system used a total of 925m3 of RAINBOX® CORE attenuation crates, delivering a huge volume of storage without taking up excessive amounts of space on-site. GRAF's 30 year insurance warranty on their supply and install package makes them stand above other systems on the market.
Josh Helsby, JDP Sales Representative commented "The on-site contractor H&H Construction is a valued customer of JDP and the RAINBOX® CORE crates were a great choice for this project due to them being quick and easy to install.
This project was completed in 6 days from delivery on site to completion. The crates were supplied and delivered by our partners at GRAF UK for quick and easy assembly on site."