The school is expanding in order to accommodate 25% more students. As well as four new classrooms, there will be an expansion to the hall and additional staff car parking spaces. Due to building work taking place on permeable ground this would increase the risk of localised flooding and pooling surface water, necessitating a new drainage solution.
What JDP did
JDP's Technical Support team, based at Head Office in Carlisle, worked with GRAF UK to design a storm water attenuation system for the school that used a total of 45m3 of RAINBOX® CORE attenuation crates, delivering a huge volume of storage without taking up excessive amounts of space on-site.
The on-site contractor was Oakland Construction Ltd, a company focused on quality and a valued customer of JDP. The crates were supplied and delivered from JDP's Yate branch for quick and easy assembly on site, which was handled by GRAF. Due to the huge variety of products stocked by JDP, they were also able to supply the project with twinwall, hydroplates and valves, concrete rings, gullies and gully grates.
Delivering a successful solution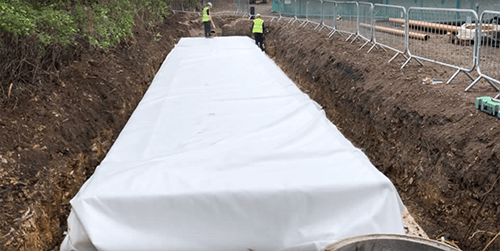 When it came to designing Whitchurch Primary School's storm water attenuation system, RAINBOX® CORE crates were the ideal choice. They were a fundamental part of the design due to the crates' high storage volumes meaning they're able to hold three times more water than a standard gravel infiltration ditch. Using these crates eliminates the need to excavate so much soil, saving time and money during installation.
The system offers real benefits in terms of reduced time on site, speed of installation, reducing transport and material costs, and reduced maintenance costs when compared with traditional alternatives such as stone filled pits. It's also capable of holding excess run off from the extensive site during storms to protect the impressive new facility.
JDP's Technical Team will provide you with their help and expertise free of charge, no matter the size of your project. Contact them with any query.
Installation
Take a look at GRAF's video of the installation to see how JDP helped Whitchurch Primary School address their drainage needs