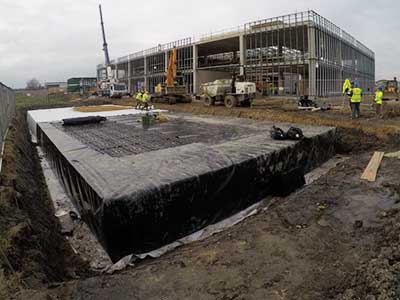 Leading electrical wholesaler City Electrical Factors (CEF) have added stormwater protection from RAINBOX® 3S crates at their new £10million state-of-the-art IT, data and marketing headquarters near Durham.
Designed by renowned Newcastle-based Faulkner Browns Architects, the project build was awarded to Sir Robert McAlpine and sub-contractors Joyce Construction & Civils.
Designing and supplying effective stormwater management, capable of holding excess run off from the extensive site during storms to protect the impressive new facility, required the flexible and sustainable solution offered by a RAINBOX® 3S geocellular system.
A total of 300m3 of RAINBOX® 3S crates were supplied and delivered for quick and easy assembly on site, with the system being designed by JDP Technical Support based at the company's head office in Carlisle.
Consisting of two half-boxes and a centre plate, crates are delivered flat-packed to site for easy transportation and are simply snapped together to make a full-size crate.
RAINBOX® 3S is designed to have a high void ratio to maximise storage volume, and are recommended for light and medium loading class usage. The system offers real benefits in terms of reduced time on site, speed of installation, reducing transport and material costs, and reduced maintenance costs when compared with traditional alternatives such as stone filled pits.
JDP provides a range of products to create an effective water management system including flow controls and orifice plates, pump stations, permeable and non-permeable membranes, protection fleeces, silt traps and drainage pipework and inspection chambers.