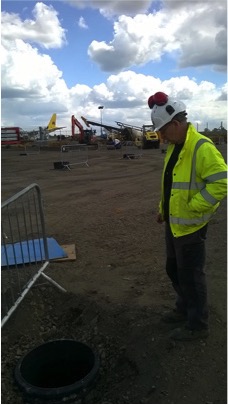 The use of the Axedo plastic inspection chambers has significantly reduced the installation time of a highly efficient, integrated drainage solution for a brand new multi-storey car park at London Luton Airport (LLA).
As one of the UK's busiest airports, serving 12.5 million passengers in 2015, redevelopment at London Luton Airport was always going to be a critical project. Approved by the city council in 2014, construction for the £110m redevelopment of the passenger terminal, ground transport and parking facilities started in January 2016.
The aim is to increase passenger capacity to 18 million by 2020 and the project is expected to add £1bn to the UK economy and create approximately 10,000 jobs by 2030.
Multi-disciplinary contractor and JDP customer Buckingham Group Contracting was awarded the £8 million contract by LLA to construct a new 1,700 space multi-storey short term car park.
Buckingham Group approached water management specialists JDP to supply an effective drainage management solution to protect the new facility. The JDP technical team designed a system incorporating Axedo plastic inspection chambers as part of a fully integrated underground drainage pipe system.
Buckingham Group were so pleased with the results, reduced labour costs, and faster installation times that they have already used the Axedo system on a number of other sites.