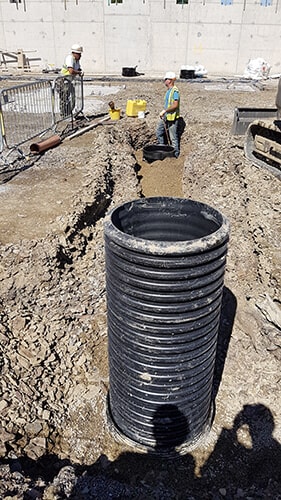 The use of the AXEDO® plastic inspection chambers significantly reduced the installation time of a highly efficient, integrated drainage solution for new school in Haverfordwest, Wales, which opened September 2018.
The £28 million development was built as part of the 21st Century Schools Programme – a collaboration between Welsh Government and Pembrokeshire County Council. The school is one of five new in Pembrokeshire as part of a wider £120 million initiative with refurbishment work.
The lightweight AXEDO® chambers offered tangible benefits over traditional concrete chambers in time, cost, flexibility and reduced health and safety issues for operatives. The Tracey Concrete perfect manholes and covers complemented the design providing a fully integrated drainage system.
JDP's technical support department supported the multi-disciplinary contractor Evan Prichard, in the drainage design from the offset of the project which resulted in a value engineered solution incorporating a combination of AXEDO® and concrete products into the design.
Evan Pritchard was impressed with the efficiency and consistency of the installation process. Morgan Preece from Evan Pritchard commented, "we liked using AXEDO® on this site, we found them really easy to install and will be using them again on future projects".
Councillor Adams, Preconstruction Director for Willmott Dixon Wales commented at the time, "This modern, state-of-the-art facility will provide the very best environment for learning. Willmott Dixon will maximise local spend whilst providing opportunities for local employment and training to ensure that we leave a lasting legacy for the community."
The new school is named Ysgol Caer Elen, based on the edge of the Withybush industrial estate, and caters for pupils aged 3 to 16.