Concrete Kerb Drainage
Available from the JDP branch network is a range of the latest integrated kerb drainage systems which offer an alternative to conventional kerb, gully and drain. Endeavouring to supply the road building contractors and authorities with the best solution for each application.
The concrete & polymer concrete range of integrated kerb drainage offer efficient drainage combined with traditional manufacturing quality. Whether for use on main carriageways or in urban areas with aesthetic considerations the range is extensive enough to cover all applications.
Kerbs / Application Selector
Highway
Mini Highway
Highway Ultra
HydroKerb
Key Applications

Highways
Commercial sites
Industrial sites
City roads

City roads
Urban roads
Access roads

City roads
Town centres
Car parks
Access roads
Urban areas

Urban roads
Car parks
Housing developments
Conservation areas and heritage

Features

High capacity linear drainage system
Reduces need for underground pipework and subsequent excavation costs
Immediate water removal
Designed for use on motorway and dual carriageway applications

High surface water drain off
Reduction in excavation and installation cost
Robust design for busy carriageway applications
Available in one piece or two piece units

Robust polymer concrete design
Minimal installation disruption
Good hydraulic characteristics
Easy to use one or two piece modular design

Ideal for limited depth applications
Excellent drainage characteristics
Cornish granite finish top with polymer
Most aesthetic kerb drainage available

Accessories

Shallow, deep & crossing bases
Junction & outlet bases
Crossing base unit
Silt box top unit
External radius unit
Cable duct unit
Concrete & ductile iron drainage tops

3x base unit depths
Standard top unit
Rodding eye top unit
Silt box top unit
Radius unit 25/11
Sump unit
Gully unit
Crossing base plate

Shallow & deep units (base only or one piece)
Dropper units
Top unit
Radius 6m to 25m internal & external
Crossing unit
Access top
Silt box
Deep & shallow gullies

Top unit
Radius units
Top unit
Crossing unit
Sump unit
Inspection unit
Gully Inflow unit
Gully pot
Silt box top
Rodding unit
Recycled Kerb Drainage
Over recent years the use of Combined Kerb Drainage has grown rapidly, with engineers appreciating the advantages offered over the traditional gully and pipe drainage systems, for car parks and carriageways. Lightweight kerb drainage system, manufactured from 100% recycled waste destined for landfill and 70% lighter than conventional concrete. Recycled Kerb Drainage negates the extra cost and time incurred with the vacuum lifters and grabs needed for traditional concrete kerbs.
Features & Benefits
Combined kerb drainage system
Made from 100% recycled material
100% recyclable
Extremely lightweight being some 70% lighter than conventional concrete or polyester concrete equivalent, yet is strong and robust.
Available in 305mm and 480mm high units to half battered HB1 profile, and has a full range of components including droppers, centre stones, inspection and gully units, radius kerbs etc.
3 inlets in the face of the kerb unit, offering better hydraulic performance, and enabling surface water to drain more quickly from the carriageway.
One-piece unit 500mm long, with a high-impact resistance and has a positive interlock between all components.
Resistant to most forms of effluents found in highway situations, and has a finish in common with standard concrete kerbs.
Standard Drainage Unit
| Code | Description |
| --- | --- |
| 1801305SU | 100x305mm HB1 Unit |
| 1801480SU | 100x480mm HB1 Unit |
Applications
Urban road schemes
Trunk roads
Roundabouts
Traffic calming situations
Car parks
A full range of accessories is available making a complete system.
90° Internal angle
90° Quadrants
Internal radius units 11-25m
External radius units 6-7m/8-10m/11-25m
Crossing units
Drop kerbs
Rodding access & outlet unit
Ductile iron gully top cover & base
End caps/outlet plugs
End/back outlet drain unions
Shallow Drainage Unit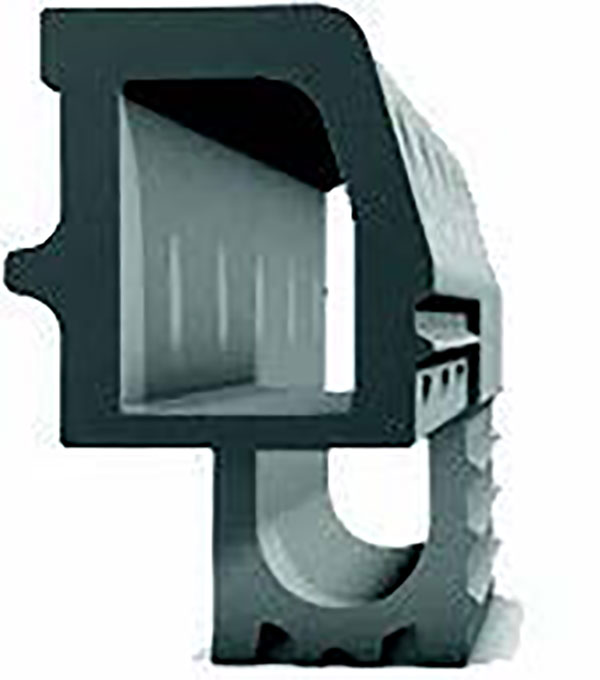 This shallow kerb unit is available as splayed or half battered and is ideal where construction depths are limited i.e. concrete slabs/ bridge decks, also where low flows are anticipated (narrow/short lengths bridge decks).
It allows continuity of kerb drainage from carriageways over structures. When located on Bridge Decks, sub-surface slots are incorporated to drain the asphalt matrix. A wide range of components is available, such as End Units, End Outlet Units, Expansion Joint Assemblies, and Inspection Units.
Standards & Installations
Concrete Kerb Drainage
British Standard kerb products comply with the performance levels in European Standard BS EN 1340
Shallow Drainage Unit
Load tested up to D400 under EN1433
Fully compliant to Highways Agency (HA) IAN117/08 and EN1433
Please Note:
Traditionally, combined kerb drainage system failures are due to side wheel loads, irrespective of the compressive loading capabilities of the product, but EN1433 and DIN19580 do not specify a test for side impact loads.
However, it is designed to have a high impact resistance to side wheel loads therefore we recommend the C250kN installation detail with a well compacted road construction.
Concrete Kerb Drainage
These products should be installed in accordance to BS7533 Part 6. They form edge restraints for other paving materials, pedestrian/vehicle segregation and drainage collectors for surface water. Foundations for units can either be a well compacted bed of fresh concrete or a 1:3 cement : sand mortar (12-40mm thick) on a preformed concrete race.
The base concrete, to grade ST1, should be a minimum 150mm thick and extended 150mm beyond the edge of the unit where haunching is required.
Haunching for units as appropriate should be with a concrete grade ST1. It is necessary to ensure a good bond between haunching concrete, unit and base. Allow to gain sufficient strength before laying adjacent paving material. Lay units to line and level with a paviours maul such as that they are within 3mm of the design alignment. Joints should be close joints (trowel thickness) for natural stone and concrete units, laid dry.
Shallow Drainage Unit
Through a policy of material and process development, Recycled Kerb Drainage has a finish almost identical to a standard Concrete Kerb Drainage.
Excavate through to line and level.
Lay out units prior to installation to ensure all rodding access units and outlets are positioned correctly.
Start at outfall and work away, finished line and level should be pre-determined.
If sealant is to be applied please apply to the unit not yet laid then butt together – keep joints clean of concrete bedding material.
A 2mm gap should be left between units (trowel thickness) to allow for contraction and expansion.
The male/female joint will ease installation procedure as line will be easier to achieve.
Asphalt can be laid to the pre-marked line shown on units to offer a 125mm kerbface.
Asphalt will adhere to the face so pre-pitching is not required.
Units should be cleaned prior to hand over.