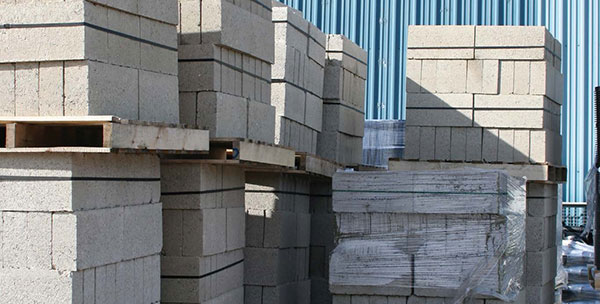 Features & Benefits
Completely fire resistant
Excellent sound insulation
Ideal background for dry lining, wet finishes and fixings
Inherent thermal mass acts as heat store
Recyclable
Proven and familiar building method - no risk
Widely and readily available
Cost effective
Standard finish for rendering and close textured for direct decoration available
Applications
Internal & external leaves of cavity walls
Solid walls
Separating/party walls
Partitions
Multi-storey
Foundations
Beam & block floor
Standards
BS EN 771-3 which covers the BS requirements of all types of concrete block (and brick) units.
Range
| Code | Description | Size (mm) |
| --- | --- | --- |
| 1801100X215MBLK | Dense Concrete Block | 100 x 215 x 440 |
| 1801140X215MBLK | Dense Concrete Block | 140 x 215 x 440 |
Installation
Careful selection of mortar is essential. Extensive guidance is given in the BS 5628 suite of masonry design standards. The location of the block work is an important consideration, and as a guide stronger mortars will be required in high exposure situations. Similarly the design of walls employing high strength blocks, typically 10N/mm or greater, will result in enhanced load bearing capacity when designation (ii) or (i) mortar mixes are used. However, for the construction of most internal walls in inner leaves of cavity walls above ground, it is common practice to specify mortars no stronger than 1:1:6 cement, lime, sand composition or similar designation (iii) mix or general purpose to BS 5628-3.
All types of aggregate block are suitable for use to the inner leaf of external cavity walls, or internal walls below ground. For the external leaf of external cavity walls, or solid external walls, dense, lightweight 7/mm² blocks or aggregate block with a density of at least 1500kg/m³ are all suitable. Where unusual ground conditions exist, or for more information contact your local JDP branch.
Building Materials Products