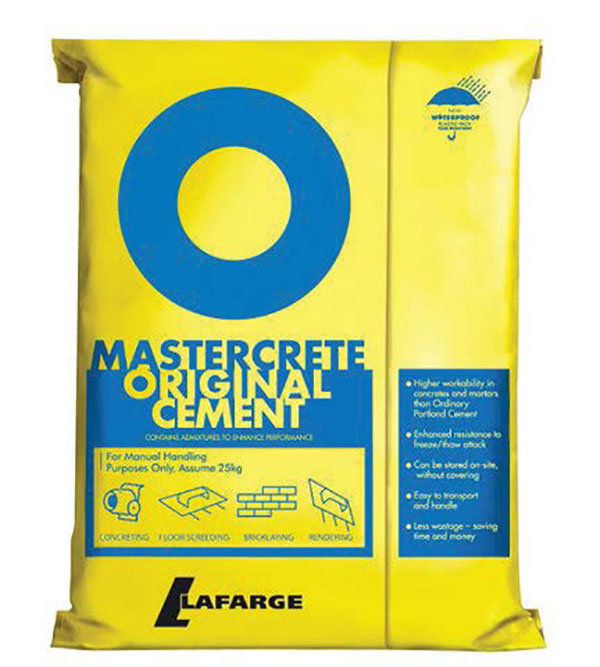 JDP offers a range of cements for civil engineering, building applications, ready-mixed concrete, and concrete products.
Admixtures such as air-entraining mortar plasticizers, such as Febmix, designed to enhance the wokrability and freeze thaw resistance of brick and block laying mortars are also available from JDP.
Features & Benefits
Consistent strength meeting all the conformity criteria in BS EN 197-1
Compatible with admixtures
Applications
For use as a bonding ingredient for mortar mix or concrete
Standards
Cements are quality assured with independent third party certification and carry a CE Mark.
Cement Range
| Code | Description | Uses |
| --- | --- | --- |
| 1806CEMENT | 25kg Bag Cement | General purpose cement for most applications |
| 1806PROCEM | 25kg Bag Pro Cement | General purpose cement for all types of concrete, including structural concrete, mortars, renders and screeds |
| 1806MASTERCRETE | 25kg Bag Mastercrete Cement | The first choice for internal and external general purpose non-structural concrete, mortars, renders and screeds |
| 1806CEMENTWH | 25kg Bag Cement White | A white Portland cement without pigmenta or additives, for concretes intended to remain visible, renders, mortars and grouts |
| 1806SULFACRETE | 25kg Bag Sulfacrete Cement | A low alkali cement with a high sulfate resistance and a moderate heat hydration. For use where ground conditions require sulphate resisting concrete or mortar |
| 1086MORTAR | 20kg Bag Mortar Mix | A highly workable masonry cement |
| 1806EXTRARAPID | 25kg Extra Rapid Cement | Rapid hardening and setting properties making it suitable for repairs and maintenance work. Available in water repellent, plastic packaging |
| 1806POSTCRETE | 20kg Postcrete Cement | A rapid setting mix of cement, aggregates and hardeners |
Installation
Trial mixes are recommended to determine the optimum mix proportions. The cement content must be correct and the water: cement ratio as low as possible consistent with satisfactory placing, thorough compaction and effective curing. Refer to the following documents:
BS EN 206-1: Concrete
BS 8500: Concrete-Complementary British Standard to BS EN 206-1
BS 5628: Part 3 Use of Masonry
Building Materials Products