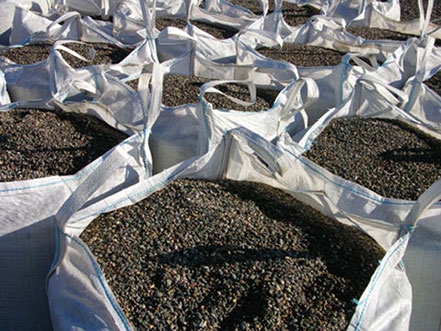 JDP offers a wide range of aggregates that are durable and versatile. Aggregates can be used in a wide variety of applications including concrete and asphalt production, sub-base, capping and drainage systems as well as for decorative purposes.
Aggregates are sourced within the local region; therefore JDP's offering may vary from branch to branch. Please contact your local JDP for details.
Consult the table below to select aggregates based on application.
Ordering the right amount
When you are ready to order the aggregates you require, please have the following measurements available:
The length of the area
The width of the area
The depth of the area
Features & Benefits
Available in 25kg or 1 tonne bulk bags
Decorative and practical uses
Applications
Pipework bedding or filter material
Bulk fill material
General and specialist construction
Driveway and pathway finishes
Decorative landscaping
Range
Product name
What's it like?
What's it for?
20/40mm Coarse Aggregate
Single sized and graded coarse aggregates including: crushed limestone, crushed granite, crushed gritstone, crushed & uncrushed gravel and secondary aggregates.
Can be used in concrete and asphalt production, civil engineering (pipe bedding and surround, filter media) and for decorative uses.
20/32.5mm Coarse Aggregate
10/20mm Coarse Aggregate
6/14mm Coarse Aggregate
4/10mm Coarse Aggregate
2/6mm Coarse Aggregate
4/40mm Graded Aggregate
4/20mm Graded Aggregate
2/14mm Graded Aggregate
0/40mm All-In Aggregate
0/20mm All-In Aggregate
0/10mm All-In Aggregate
0/6.3mm All-In Aggregate
Product name
What's it like?
What's it for?
0/4mm Fine Aggregate (Coarse)
Natural sands and crushed rock fine aggregates in the size range 0-4mm
Can be used in concrete, asphalt and mortar production. It can also be used decoratively or as bedding for block paving
0/4mm Fine Aggregate (Medium)
Bedding Sand
0/2mm Fine Aggregate (Medium)
Natural sands and crushed rock fine aggregates in the size range 0-3mm
0/2mm Fine Aggregate (Fine)
Building Sand
Crusher Run
Well graded crushed rock in the size range 0-125mm
Generally used as bulk fill to stabilize structures and pavements. May also be used for footpaths or as a temporary running surface
Quarry Scalpings
6F Capping Materials
Type 1 Granular Sub-Base
Walling Stone
Large single-sized crushed rock in the size range 100-500mm
For use as dry stone walling
Armour stone
For use in sea and river defence work
Railway Track Ballast
For use in bedding under railway tracks
Gabion Stone
Ideal filling for Gabion baskets
Rockery Stone
Ideal for use in the garden
Golden Amber Gravel
Single-sized gravels
Can be used in a range of decorative applications e.g. driveways and footpaths
Standards
Depending on the application, JDP are able to supply materials in full compliance with all of the following British and European Standards:
BS EN 12620
BS EN 13043
BS EN 13285
BS EN 13242
BS EN 13450
BS EN 13383
BS 8007 and Specification for Highway Works
Building Materials Products