Constructing a foul water drainage field requires specific rules and regulations you must stick to in order to abide by the law and dispose of foul water in a safe and correct way.
These steps give you guidance on how to install a drainage field to provide secondary treatment to the discharge from a septic tank.
Design and Construction
As per Building Regulations 2010 Drainage and Waste Disposal Part H: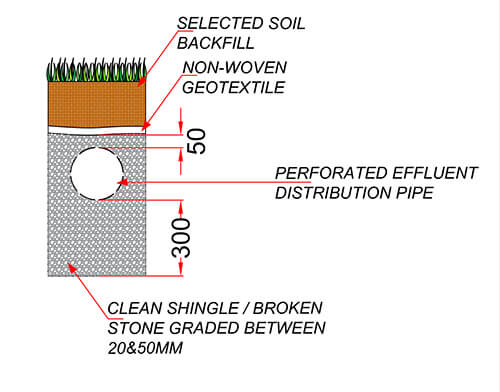 Drainage fields should be designed and constructed to ensure aerobic contact between the liquid effluent and the subsoil.
Drainage fields should be constructed using perforated pipe, laid in trenches of a uniform gradient which should not be steeper than 1:200.
Pipes should be laid on a 300mm layer of clean shingle or broken stone graded between 20mm and 50mm.
Trenches should be filled to a level 50mm above the pipe and covered with a layer of non-woven geotextile to prevent the entry of silt. The remainder of the trench can be filled with soil; the distribution pipes should be laid at a minimum depth of 500mm below the surface. Drainage trenches should be from 300mm to 900mm wide, with areas of undisturbed ground 2m wide being maintained between parallel trenches.
An inspection or a sample chamber should be installed between the septic tank and the drainage field.
Drainage fields should be set out as a continuous loop fed from the inspection chamber.
Contact JDP's Technical Support Team who will be able to assist you with further queries regarding septic drianage field construction.
Technical Support: 01228 794445