A helicopter delivery of products sourced by JDP has been made to a new Hydro Scheme in the Lake District. The project, based at Combe Gill in Cumbria, is planned to generate enough electricity to supply over 200 houses. This project was so incredible we couldn't miss the opportunity to caputre it on film! Take a look at the video from the day!
What JDP did
Our Technical Support team worked closely with the client, IT Shaw & Son, to ensure the correct products were supplied to the site, especially in complex areas where pressure changes needed to be accounted for.
JDP supplied the Hydro Scheme with a mix of both Black HDPE SDR26 pressure pipe and Black HDPE SDR17 pressure pipe in 13.5m lengths.
Delivering a successful solution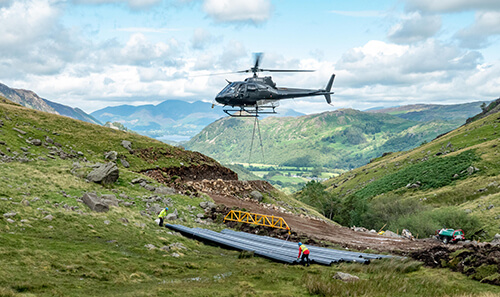 As well as in-depth technical advice throughout the design of the Hydro Scheme, the team were also on site for the extraordinary final delivery of the pipes. Due to the remote location, steep terrain and limited road access around the site, a helicopter was the only option to transport the pipes to their final destination.
The National Trust worked with IT Shaw & Son on this project to arrange the delivery using their helicopter. As expected, weather conditions cancelled the delivery twice but thankfully the delivery was rearranged on a clear day to safely fly the helicopter over the Cumbrian fells.
The HDPE pipes, manufactured by Peak Pipe Systems, were a perfect product for the scheme due to their pressure capabilities and ease of installation. Offering top quality products for this project will ensure the development needs minimal maintenance and has a long-life guarantee.
How did we do?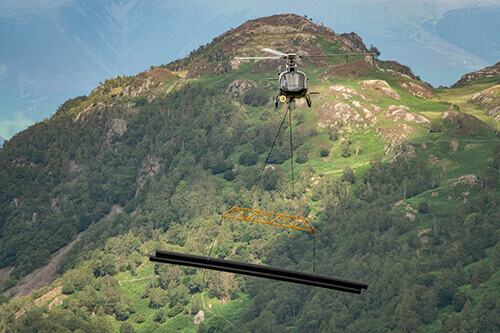 Ian Shaw, from IT Shaw & Son, was impressed with the knowledge and services provided by JDP's Technical Support and the sales office commenting, "Mike Dixon and the team at JDP have been great. The Technical Support team were really helpful in identifying any potential issues and finding the right solutions. Thank you to everyone at JDP for making this delivery safely and on time."
Joe Wallace, JDP's Regional Sales Office Supervisor who also worked on the project commented, "This was a great project for JDP and amazing to see pipe being flown across the Cumbrian fells to the new hydro scheme. Mike, from our sales team here in Longtown, worked really hard to make sure this job was a success for the customer, and it has been great to see his dedication pay off! JDP really can supply you any product no matter how remote or unusual your project is."
Last reviewed: 1 October 2019
Verified by JDP