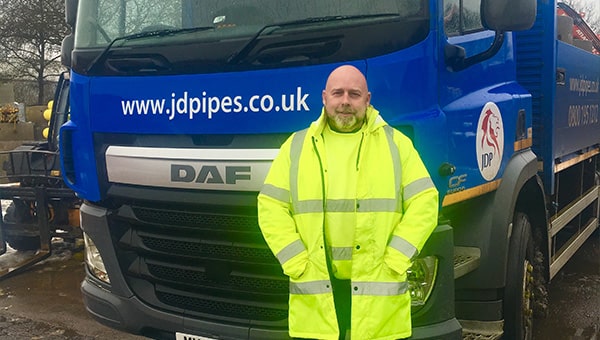 This year we have named Stephen Cooper, based at our Wednesbury branch, as our delivery driver of the year for 2021. Stephen was informed that he had scooped the prestigious award, which includes a £500 bonus, in a surprise call in January.
Stephen beat stiff competition from our drivers who deliver from Land's End to John O'Groats, servicing customers ranging from agriculture to groundworks to construction and civil engineering.
The judging of the competition is strict and carefully monitored by our management via the Masternaut telemetry system. Masternaut is a telematics system that delivers insight and management of both commercial vehicles and their drivers.
Darran Rickards, Managing Director comments, "Congratulation to Stephen! Our drivers are one of our most public faces and how they drive has a direct impact on how our customers view JDP. As an environmentally responsible company, JDP wants safe drivers and to reduce the carbon footprint of our fleet."
Masternaut, not only allows local branch supervisors and senior management to review vehicle and driver performance but on top of that, it also gives live feedback to drivers on their driving, cornering and acceleration, to reduce their vehicle CO2 emissions. In 2019 we reduced our carbon emissions by 50 tonnes with Masternaut, read our article on receiving their highest gold certification.
Jacqui Wall, Branch Supervisor at JDP Wednesbury comments; "Stephen is a great advert for JDP. He has many years of experience as a driver and running his own logistics business before joining JDP. I always know that our customers across Shropshire, Leicestershire and the West Midlands are in safe hands when he's delivering."
The last word goes to Stephen, "It was definitely a surprise! To arrive back in the depot and hear that there's a call waiting from the MD. Well, you don't know what to think! I've been driving for JDP for 18 years and I am proud to be the JDP Driver of the Year 2021!"