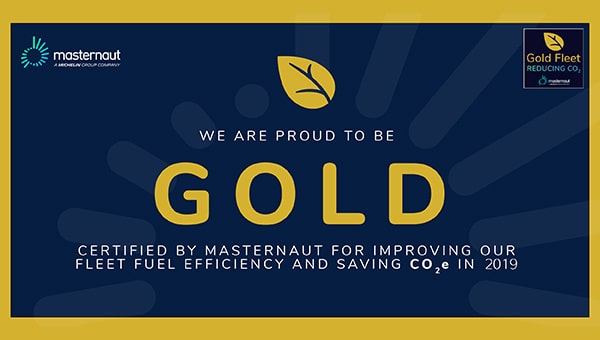 At JDP we are celebrating being awarded Masternaut's highest gold certification for CO2 reduction, for the third year running. Masternaut's leading telemetry system helps to reduce vehicle CO2 emissions which made it possible for us to lower our carbon output by over 50 tonnes in 2019.
As the UK's leading provider of civils, sewerage and drainage systems, delivering to construction blue chips, local builders, groundworkers and farmers nationwide. We reduced the ongoing environmental impact of our activities, by teaming up with Masternaut, a Michelin Group Company, to install their telemetry system in a bid to reduce the CO2 output of our delivery vehicles.
Transport Supervisor, Jayne Bar, explains; "JDP have a fleet of 50 vehicles including pick-ups and large goods vehicles, and Masternaut has been an invaluable complement to our ongoing fleet investment.
Our fleet is distributed nationwide in our 26-branches, with each branch delivering to customers every day. That is a challenge to manage, but the Masternaut system uses fobs to identify individual drivers and vehicles which, combined with live in-cab guidance, helps encourage drivers to drive both more safely and economically. The telemetry system reports back to branches and senior management with vehicle location and driver performance."
Martin Joyce, Head of Commercial for JDP, comments; "JDP continually invests in our fleet and drivers. For our customers, they can be sure that all of our vehicles are reliable, efficient and, with Masternaut, they can even be kept updated with exactly where the vehicle is with their delivery.
JDP is dedicated to delivering customer solutions based on controlling the flow of water in urban and rural environments, so it is only natural that carbon reduction is in our customers' minds. With Masternaut's help, we have saved 50 tonnes of carbon emissions in 2019, again proving that JDP is the ideal partner for environmentally responsible businesses."
Find your local branch
Buy Online