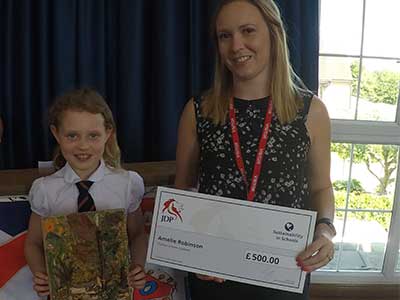 A crafty year 4 primary school pupil from Chalfont St Peter CE Academy has taken top prize in the Southern England region of JDP's Sustainability in School 2017 competition.
Amelie Robinson, who also received a £20 high street voucher for her entry, will now compete with other winning entries to win a further £1,000 prize money after the school was awarded £500 for Amelie's first place finish.
As well as the monetary prize, JDP will feature winning entries from the competition in the company's 2018 customer calendar.
Speaking about Amelie's win, head teacher Elizabeth Underwood said: "The children were really engaged, as outdoor activities are always very popular. JDP gave the chance for our pupils to take part in the competition and enjoy the local forests and woodland, and with the free activity packs, helped collect the material needed for the class to compete in the challenge."
"We're all very proud of Amelie, and wish her the best of luck in the next round of the competition."
Hayley Slack, JDP Marketing & Communications Coordinator, says that forests and woodland is a company interest as well as an activity for pupils to learn about the importance of these areas in the environment.
"JDP work with schools to promote healthy living and the environment, to make sure that the future generations know how important it is to be healthy and how easy it is to look after the planet."
"Every Molecule Counts is the company's sustainability mission, to ensure that life on our planet can thrive by creating a world that makes the most of its resources, and the annual schools competition helps create this mentality with young people in the local communities of JDP's branch network."
For more information about the JDP schools programme, please contact us.