Choosing the right products for your drainage system is an integral part of the planning and designing process, whether your project is large or small. Any contractor who undertakes the installation of and underground drainage system will need to use and inspection chamber.
Nowadays plastic inspection chambers are used as an alternative to heavy, expensive concrete chambers. JDP offers a range of inspection chambers called AXEDO® used for non-man entry chambers for foul and surface water drainage systems. These offer many benefits over concrete chambers: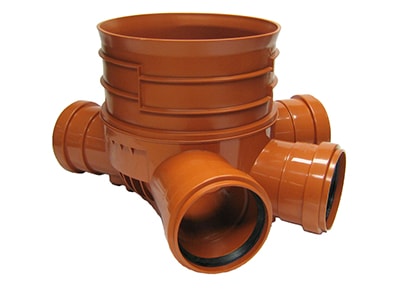 Safe: Weighing 25kg or less and requiring less working within confined spaces with heavy machinery.
Versatile: With various push fit adapters and configurations available for most pipe types, the range is very flexible to all site conditions, surface or foul water.
Consistent: Factory production, easy handling and manual installation means a consistent system build quality.
Fast: Being significantly smaller than concrete, less excavation and infill is needed, meaning installation times is up to 4x quicker.
Sustainable: A greatly sought-after quality, while the reduced weight leads to reduced transport CO2 emissions, costs, time and site traffic. They're also fully recyclable.
Cost effective: Could save up to 42% of total system cost compared to concrete.
Before looking into choosing the right inspection chamber you need to know:
The size of the pipe
The type of pipe you have
Cover level/invert level or depth
Configuration
Depth is a crucial factor in determining which inspection chamber you should use.
An inspection chamber with a width of 300mm or less can only be installed at a depth of 0.6m (600mm) making these chambers perfect for using near your house as you're not going to need a person to go in and maintain this- making thee non-man entry.
Chambers with a width of up to 450mm can be installed at a depth of 1.2m (1200mm). These are easily accessible for cleaning however are large enough for a small child to fall into so you cannot install these above 1.2m.
If you need to install an inspection chamber at a greater depth of up to 6m we would recommend an AXEDO® 450-2 chamber with risers or adaptors, and as these are man entry and there is a risk of people falling in and becoming stuck at this depth, you would need to use a reducing ring to restrict the opening.
Tips!
If possible only use one type of base per scheme to avoid confusion on what to use where!
JDP can provide technical support from our team of experts who will be able to advise you with which products you need and provide answers for you free of charge.