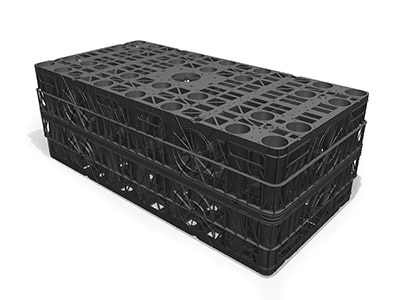 Climate change is causing more intense, frequent and prolonged rain fall throughout the UK which can lead to localised flooding in urban areas as drainage systems become overstressed and overloaded.
As we continue to turn open areas into hard landscaped developments the effect of evapotranspiration, the environment's natural ability to soak and use water that falls as rain, decreases rapidly as non-porous materials such as concrete and tarmac have replaced soil, grass and natural fauna.
Legislation1 and local authorities now demand at planning stage that any future residential, commercial and industrial developments have in place a stormwater management system (also known as a sustainable drainage system or SuDS) that has the same operational capacity as the environment's evapotranspiration rate prior to development.
RAINBOX®
To protect homes, businesses and the environment from the harmful effects of flooding the RAINBOX® family of products create an underground structure that stores water from rain fall collected via drainage systems, and slowly releases it back into the environment either through the surrounding ground (soakaway) or into a nearby watercourse (attenuation) once the risk of flooding has passed.
The RAINBOX® family consists of RAINBOX® 3S, RAINBOX® Core2 and RAINBOX® Cube2 geocellular crates that are manufactured from newly produced (or "virgin") polypropylene to retain as high strength as possible during operation.
While new plastics aren't helpful in reducing plastic pollution, all RAINBOX® products have been engineered to be fully recyclable at Waste Recycling Centres (as hard plastics) across the UK.
They are also engineered to be transported with as little packaging as possible, only what is required to secure the products during transit and storage before installation.
Their innovative flat-packed packaging solution also helps speed up installation and requires less transport to make deliveries, as more crates can fit on a vehicle than most other competitor crates, further reducing the carbon footprint of RAINBOX® systems.
At JDP, reducing plastic pollution isn't just about utilising recycled materials in products, but instead we consider the product's whole lifecycle from manufacture to transport, installation and its eventual re-use.