Large Diameter HDPE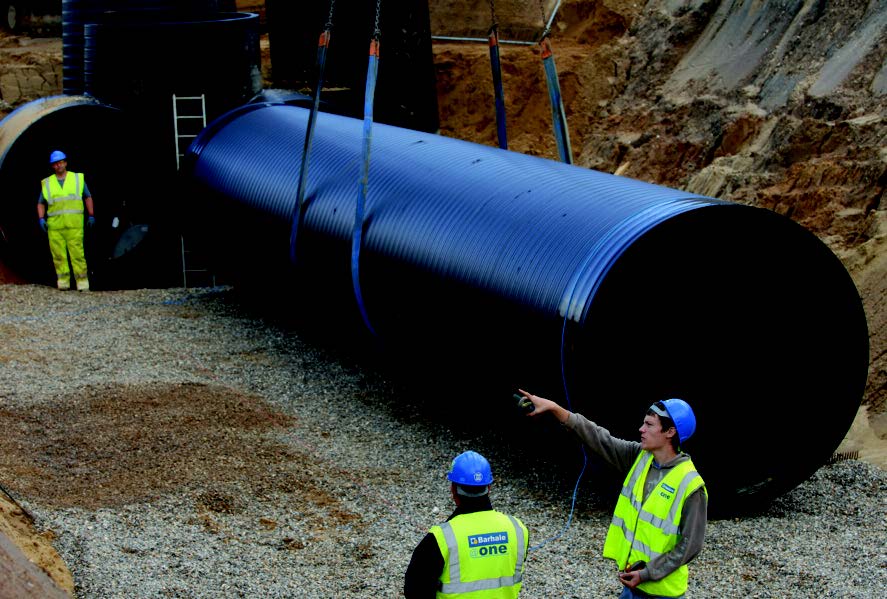 Large diameter HDPE pipes are tough, lightweight, shock and chemical resistant. They offer installation economy and long service life. These pipes are available in standard lengths of 3, 6, 12 and 14m. Special pipe lengths can be produced to meet almost any need.
Features & Benefits
Lightweight and impact resistant
Corrosion and chemical resistant
Flexible and fatigue resistant
Installation is cost effective saving time and money against alternatives
Ability to manufacture from 2kN/m2 to 8kN/m2 (standard strengths are 2kN/m2 & 4kN/m2)
Various lengths up to 18m
Sizes from 700mm to 3000mm
Applications
Gravity and low pressure applications up to 1.5bar internal pressure
Surface water drainage & attenuation
Culverts
Fouls sewers
Sea or river outfalls
Pipe rehabilitation and relining
Landfill
Manholes
Marine pipelines
Below and over ground applications
Fabrications
JDP supply fabrications from bends and junctions to complete off site solutions designed to customer specification. Please ask your local branch for more details. See also our Preformed Chambers section.
Large Diameter HDPE Product Range
Stiffness Class
2 kN/m²
4 kN/m²
ID (mm)
OD (mm)
Total kg/m
OD (mm)
Total kg/m
700
758
25
782
32
750
812
25
840
36
900
962
36
1012
48
1050
1134
52
1172
57
1200
1316
67
1346
90
1350
1474
82
1506
93
1500
1636
95
1662
140
1650
1786
108
1810
150
1800
1976
125
1998
165
2000
2180
140
2230
195
2100
2286
200
2316
240
2200
2412
205
2440
260
2400
2624
210
2664
295
2500
2730
280
2764
310
2600
2846
295
2864
320
2800
3096
360
3064
425
3000
3266
362
3288
515
A comprehensive range of elbows, tees and bends can be manufactured to suit clients requirements.
Properties in this table are a guide only.
Installation & Standards
BBA Roads and Bridges Certificate
WRc Certified
DWI Regulation 25
WIS 4-35-01:2000
Network Rail Certificate
Pipe Bedding - The bedding soil must be free from stones within the breadth of the pipe trench. On the trench bottom a 150mm thick bedding layer is prepared and well compacted. For installation in soft/wet soil, a geotextile is placed under bedding.
Pipe Laying - Pipe laying should be carried out in accordance with the latest edition of the Civil Engineering Specification for the Water Industry (CESWI). Prior to installation commencing, a site briefing to the developer and his installation contractor should be carried out.
Inspection Pipes and fittings should be visually checked for any damage immediately prior to installation.
Pipe Jointing - The pipes should be jointed in the trench and laid on the prepared bed so that the barrel of the pipe maintains substantially continuous contact. Small depressions should be made to accommodate the pipe sockets or couplings. Once the joint is complete, these depressions should be carefully infilled, taking care that no voids remain under or around the joint.
Primary Backfill - Backfilling shall be made over the whole width of the trench. Compaction of the backfill material shall be made in layers of 150-300mm. The final layer of the primary backfill should be minimum 300mm above the pipe crown. Note: No compaction is to be done directly above the pipe until the backfill has reached 300mm above the pipe crown.
Final Backfill - The final backfill is done with regard to the native soil and external loads (traffic). When deemed necessary, the compaction is carried out in several layers.
Please note this is a guide only, for full installation instructions manufacturers advice should be followed.