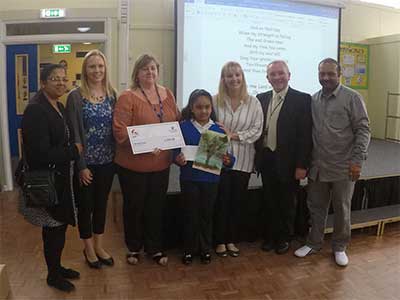 Bhakti, a year 5 pupil from Bilston CE Primary School in Wolverhampton, is celebrating winning £500 for the school in JDP's Sustainability in Schools 2017 competition.
The prize money was awarded as Bhakti's collage of scavenged forest and woodland material won the Midlands region of the competition.
The JDP school initiative promotes healthy living, the importance of the environment and preserving water and other precious resources to primary school children through an annual art competition.
This year focused on forest and woodland, and the important role these areas play in local communities.
Hayley Slack, JDP Marketing & Communications Coordinator, comments: "Bhakti's collage shows great thought and design from the school's trip to the forest, which aimed to encourage pupils to learn through adventure and interaction with nature."
"Bhakti also received a £20 high street voucher for the winning entry that continues to a national round of the competition, where the school could win a further £1,000 prize money. We wish the school the best of luck!"
For more information about the JDP schools programme, please contact us.