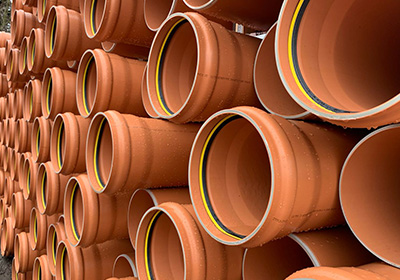 With the assistance of its manufacturing partners JDP continues to research and develop new innovative products that offer recycled-material alternatives within its stock range.
Beginning in February 2017 ULTRA3 sewer pipe, manufactured to EN 13476-2 and compliant with BS EN 13476-2, will be available at JDP branches around the UK.
This replacement for EN 1401 sewer pipe is manufactured with an inner and outer PVC layer, with an inner layer manufactured from at least 40% recycled material. Unlike foam-core pipe, this structured wall pipe offers superior strength and ease of installation with an SN8 rating.
ULTRA3 pipe is suitable for foul and surface water drainage systems, and is full adoptable to Sewers for Adoption 7 (E.2.22) and Sewers for Scotland 3 (4.2.22).
Visit the ULTRA3 Adoptable Pipe & Fittings for a full range of underground sewer system pipe and fittings.