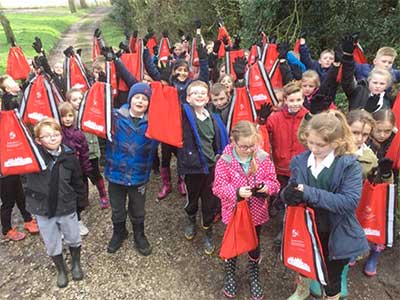 The Northern region winner of JDP's Sustainability in Schools 2017 competition has been announced as pupils of Year 4 from Kirkby Woodhouse Primary School in Nottingham.
Together, the class worked on a project scavenging material from Portland Park to create a collage for the competition using the scavenger pack given to the school by JDP. Their hard work and determination paid off, with their entry being awarded £500 and crowned regional winner.
The prize money is being used for equipment for Nottingham City Council's Forest School initiative, so that all children can have fun exploring, creating, developing new skills and learning more about their environment.
JDP's Sustainability in Schools programme, now in its 6th year, promotes healthy living and environmental care within the communities of the company's branch network. The 2017 competition focused on forest and woodland, and the importance of these areas in the environment.
Ruth Maddison, head teacher at Kirkby Woodhouse, is proud of the pupil's achievement.
"Using the free scavenger packs from JDP helped the children collect their material for the collage, and outdoor activity is an important part of learning that the children enjoyed very much."
"The Forest School activities are very popular, and the prize money from the competition will help future generations learn about forests and woodland and increase the understanding and appreciation of the environmental, social and economic potential of trees, woodlands and forests and of the link between the tree and everyday wood products."
For more information about the JDP schools programme, please contact us.