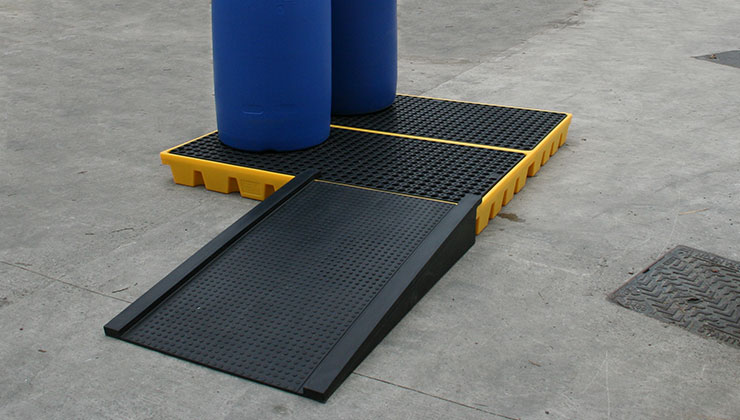 JDP supply a range of workfloor and pallet solutions for spill containment to ensure that commercial and industrial properties comply with the Control of Pollution (Oil Storage) Regulations and site Health and Safety Regulations.
These products are used underneath storage drums in workshops, industrial sites, factories, hospitals and marinas to collect any spills while drums are in use.
Workfloors
Features & Benefits
Withstands constant use as a raised floor area.
Link blocks available to create customised work areas.
Suitable for storage of drums up to 210 litres.
Removable desk for easy cleaning.
Applications
Engineering companies
Workshops
Industrial sites
Factories
Hospitals
Marinas
Workfloor Range
| Capacity (ltrs) | Length (mm) | Width (mm) | Height (mm) | Code |
| --- | --- | --- | --- | --- |
| 55 | 758 | 758 | 150 | 1401SS1DWF |
| 112 | 1400 | 758 | 150 | 1401SS2DWF |
| 215 | 1400 | 1400 | 150 | 1401SS4DWF |
Bunded Pallets
Features & Benefits
Suitable for storage of drums up to 210litres
Removable desk for easy cleaning
Fork lift slots for positioning empty pallets
Applications
Engineering companies
Workshops
Industrial sites
Factories
Hospitals
Marinas
Bunded Pallets Range
| Capacity (ltrs) | Length (mm) | Width (mm) | Height (mm) | Code |
| --- | --- | --- | --- | --- |
| 240 | 1400 | 758 | 385 | 1401SS2DBP |
| 250 | 1400 | 1400 | 250 | 1401SS4DBP |