What are Cesspools?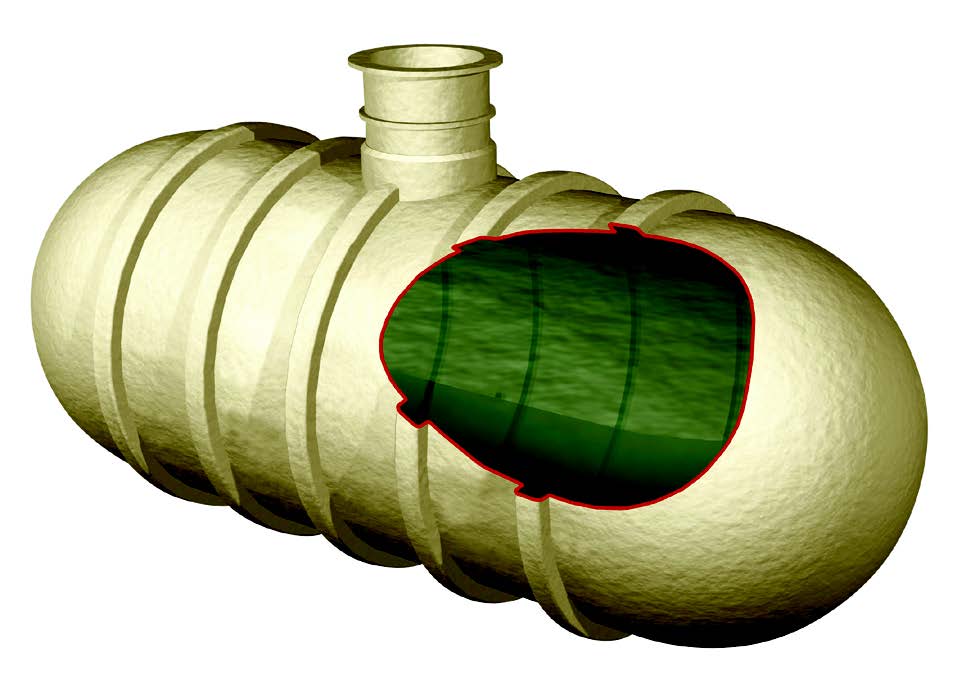 Cesspools are designed to store the effluent, as a result, a large tank and regular emptying is required, making this the least cost effective solution. Therefore cesspools should only be considered where there is no mains drainage for the sewage waste to discharge and no consent to discharge into soakaway or a watercourse can be obtained.
JDP offers a range of cesspools, generally capacities available as standard are: 2,800 litres - 60,000 litres. Other sizes available upon request.
Features & Benefits
Fully sealed unit ensuring no effluent discharge
Lockable cover
optional high level alarm
Applications
Domestic dwellings where discharge of sewage effluent to a soakaway system or a watercourse is not possible. From April 2002 the capacity suitable for two residents is 18,180 litres. This size should be increased by 6,800 litres for each additional user. Smaller or larger cesspools for non-domestic applications, such as temporary construction site offices, are also available.
All standard cesspools are supplied with a 1m invert inlet. For deeper inverts heavy duty version should be used. The following table indicates general sizes and data, however this will vary depending on manufacturer and specific application.
Cesspool Product Range
| Capacity (ltrs) | Overall Length (mm) | Overall Width (mm) | Inlet Level to Base of Tank (mm) |
| --- | --- | --- | --- |
| 18180 | 4320 | 2800 | 2730 |
| 22500 | 5090 | 2800 | 2730 |
| 27000 | 6190 | 2800 | 2730 |
| 36000 | 7740 | 2800 | 2730 |
| 45000 | 9460 | 2800 | 2730 |
| 55000 | 11180 | 2800 | 2730 |
Installation
Siting the Unit
British Standard BS: 6297-1983 recommends that sewage treatment works should be as far away from habitable buildings as is economically practicable. The direction of the prevailing wind should be considered in relation to any properties when siting the works. The sludge emptying contractor's vehicle will probably have a maximum reach of 30 metres, but the depth from the ground level to the bottom of the tank must not exceed 5 metres.
The installation should be carried out in accordance with the requirements of the Construction and Building Regulations. An inspection chamber should be installed upstream of the Treatment Plant. For discharge quality sampling purposes a sampling chamber can be provided (optional extra).
BEFORE INSTALLING YOUR TANK
Read Full Installation Guide provided with delivery of goods.
Ensure Building Regulation approval.
Ensure consent of discharge is approved from the environment agency.
Ensure access for desludging tanker. (Building regulations suggest 30m max).
Check orientation and heights of inlet and outlets.
Use a pump to keep excavation clean and free from rising ground water during installation.
DO
Use the correct backfill material.
Site tank at furthest practical location from habitable dwellings. Most building regulations recommend a minimum of 7m.
Fit the correct cover & frame (pedestrian duty) LOCKABLE.
Consider drainage falls, generally 1 in 60/70 between house and tank and max. 1 in 200 for filter bed system.
Lift the tank using adequate ropes or slings through both of the lugs fitted either side of the neck.
DO NOT
Subject the tank to impact or contact with sharp edges.
Add neck extensions to the tank, nor, build a brick manhole above the tank neck (as this increases burial depth of the tank beyond that which it was designed for). We do not recommend extending the neck of the tank under any circumstances.
Install tank deeper than the depth that the fitted neck will allow.
Install in trafficked areas without a suitable load bearing slab.
Site the tank so that it is subjected to excess ground pressure (e.g. sloping sites) or applied loads such as may be generated by the proximity of vehicular traffic.
Lift using only one of the lugs.
Fill an unsupported tank.
Service Agreement
Although of a minimal nature, it is advised that the plant is serviced periodically to help ensure many years of trouble-free operation. Service Agreements are available through your local JDP.
This is a requirement of the new PPG4 guidelines.
Sewage Treatment Solutions Products