Harvesting & Storage Systems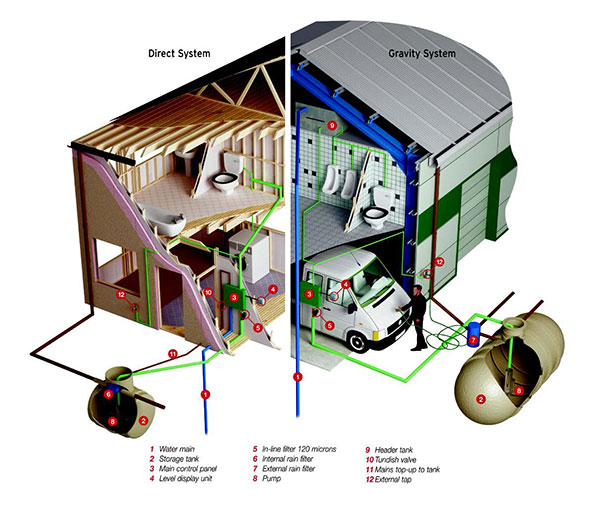 JDP offers the complete range of rainwater harvesting systems. Rainwater harvesting is not a new concept. Only recently have the benefits been recognised now that mains water supplied from the tap has become a much more precious (and restricted) commodity. The system works by taking the rain from your roof gutters, filtering out leaves and debris and storing the water in an underground tank.
The water is then pumped into the house to be used for non-potable applications such as toilet flushing and washing machines. If the tank runs empty, the system switches to mains supply.
JDPs rainwater harvesting systems offers a host of benefits to both domestic properties and large commercial buildings, whether as a new-build or retrofit option:
Key Facts
Average domestic water consumption = 157 litres per day*
Average daily cost per household = 81 pence per day*
The average household water bill has increased 39.1% since 1989 *
The roof on an average 4-bed family home captures more than 100,000 litres of rainwater each year**
A typical family uses 70,000 litres of water each year on toilet flushing, clothes washing and outside use**
One third of all water used in the home gets flushed down the toilet
Rainwater harvesting in Germany is over 100 times the current use in the UK
Rainwater harvesting in the UK has increased by approximately 300% in the last two years
* Source: OFWAT 'water facts', May 2006
** Source: UK Rainwater Harvesting Association (UKRHA)
Features and Benefits
Rain harvesting can replace up to 50% of a household mains water consumption, and up to 85% on commercial installations
Collecting rain from your roof reduces surface water by approximately 60% per plot
The payback period can be as quick as 3 years on buildings with large roofs and a high non-potable water demand
There are two system options Gravity or Direct. The size of the holding tank for either of these systems is determined by the specific site requirements. Together with our partners JDP can offer a solution to suit these precise needs.
Gravity System
The Gravity System is ideal for domestic applications. The main advantage of this system is that in the event of power failure or rain stocks running dry, the system will automatically switch to mains water supply to ensure continuity of service.
Direct System
The Direct System is used where it is impractical to have a header tank, therefore water is pumped straight from the underground holding tank to the various appliances. The main advantage of this system is that rainwater is delivered to the appliances at mains pressure (3.5bar).
Standards
BBA Certificate
Easy to install, simple to maintain, automatic in operation; the domestic rainwater harvesting system has been developed to provide the homeowner with a 'fit-and-forget' system, ensuring an automatic supply of harvested rainwater.
Designed to be as user-friendly as possible, the system utilises much of the existing pipework within the building. The main requirement being the installation of a rainwater storage tank (with internal pump), selected to meet the roof area's water catchment yield and household requirements.
Rainwater Harvesting & Storage Products