Above Ground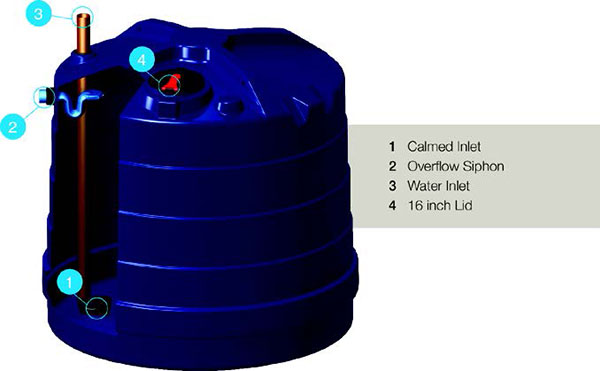 Water has become a key environmental issue and with charges for its use and for sewerage services, it makes no sense for us to let gallons of free rainwater run off our roofs and straight down the drain.
For this reason JDP supply a comprehensive range of plastic water butts for domestic rainwater storage. For the serious water user JDP can provide larger plastic tanks for rainwater storage, suitable for above ground, or underground tanks manufactured in Fibreglass (GRP). Both offer significantly larger volumes of storage than standard water butts.
Installation
All tank installations must be sited on a fully supported flat base and comply with manufacturers instructions for the specific size of tank used.
Water Butts
Efficient, compact and inexpensive, these rainwater storage units are a smart practical addition to any property.
Features & Benefits
Manufactured from high quality medium density polyethylene tough and durable
Weatherproof
Maintenance free
Ultraviolet stabilised for protection from sunlight
Rotationally moulded in one piece to provide a stress-free container of uniform wall thickness
Recyclable
Applications
Code
Description
1406WB100BG

Capacity: 100ltrs
Diameter: 380mm
Height: 940mm
Code
Description
1406WB190BG

Capacity: 190ltrs
Diameter: 420mm
Height: 960mm
Lockable Lid
Code
Description
1406WB200BG

Capacity: 200ltrs
Diameter: 660mm
Height: 970mm
Code
Description
1406WB280BG

Capacity: 280ltrs
Diameter: 660mm
Height: 848mm
Lockable Lid

| Code | Description |
| --- | --- |
| 1401WBSTAND | Suitable for 190 and 200 ltr water butts. Other sizes available. |

| Code | Description |
| --- | --- |
| 1401RAINDIVKIT | For diverting rain from 65mm square or 68mm round downpipes |

Rainwater Harvesting & Storage Products