Installing a twinwall drainage system is an unobtrusive but efficient way of removing water from a surface which is being bogged down by rainwater.
Where can I install twinwall?
Twinwall can be used for a variety of applications due to its varying size and choice of perforated or unperforated pipe. The bigger the diameter of pipe the more effective it will be, but this may over dry the ground which isn't helpful for agricultural areas. So, for field drainage you would use twinwall to remove the surface water but you would tend to use the smaller diameters of 110-300mm.
Another major use of twinwall is for roads and highways drainage and for this you would use a larger size up to 600mm.
You may want to use twinwall if you have surface water problems or a driveway, particularly a gravel one which is larger than your average driveway.
Want to know more about drainage in gravel driveways? Take a look at our Driveway drainage section!
How do I install twinwall?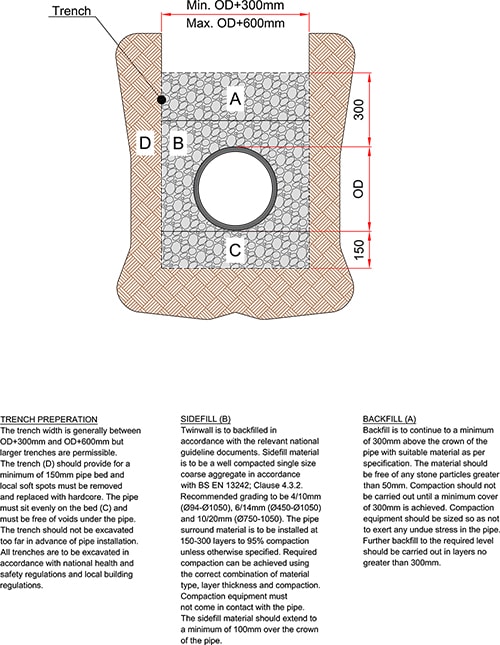 Twinwall is installed using a trench method which is completed by sidefilling/backfilling. Twinwall is to be installed in accordance to the manufacturers guidelines.
Trench preparation
The width of the trench is normally somewhere between 300mm (OD) and 600mm (OD) however larger trenches are acceptable. The trench that you dig should have a pipe bed which the pipe must sit evenly on and must be excavated in accordance with health and safety regulations.
Sidefilling
To sidefill the trench once the pipe has been laid we would recommend a small, well granulated gravel which must fully support the pipe.
Backfilling
The pipe is then backfilled with a similar gravel where the stones are no bigger than 50mm and then compacted once a cover of 300mm is achieved.
Finally, the trench can be recovered with a suitable surface material.