Choosing an oil storage tank can be quite confusing, given all of the size, shape and capacity options available. But the most important choice you will have to make is in deciding whether you need a single skin tank or a bunded tank.
Storing oil for domestic, commercial or agricultural use can have numerous benefits. Key amongst these is the fact that having your own supply of oil means you can be less reliant upon, or completely free from, the national supply. This gives you greater control over the cost of your oil, allowing you to take advantage of price fluctuations and buy in bulk.
However, as with most things in life, there are also a number of disadvantages, risks and restrictions that have to be considered.
Oil Theft - how secure is your oil?
Oil thefts have been on the rise in recent years due to exceptionally harsh winters and higher fuel prices. Therefore, protection against it should be considered when planning the placement of your tank.
Is the tank easily visible from your property?
Can it secured in a lockable compound?
Could you install an alarm to alert you to sudden oil level drops?
Installation restrictions & regulations
All oil storage tank installations must comply with regional building regulations. OFTEC registered technicians can self-certify their own work without involving Local Authority Building Control in England & Wales. However, if you choose a technician who isn't registered with a scheme like OFTEC, you will then be required to arrange for an inspection from your local building control authority, which can be costly and time consuming. Similar rules apply in Scotland where you may need to apply for a warrant before installing your tank.
It is also crucially important to provide a suitable base for your tank to sit on. If the tank is not adequately supported its structure can be weakened which can eventually compromise its ability to keep its contents secure.
Fire Safety regulations - if you intend to connect your tank to a boiler
Once your tank is connected to a boiler it instantly falls under OFTEC regulations. Whilst the risk of fire is considered to be relatively low for oil tanks and their contents, it is still important to comply with the following fire separation distances. According to OFTEC, tanks should be sited:
1.8m away from non-fire rated eaves of a building
1.8m away from a non-fire rated building or structure (e.g. garden sheds)
1.8m away from openings (such as doors or windows) in a fire rated building or structure (e.g. brick built house/garage
1.8m away from oil fired appliance flue terminals
760mm away from a non-fire rated boundary such as a wooden boundary fence
600mm away from screening (e.g. trellis and foliage) that does not form part of the boundary.
If it is impossible to comply with these requirements, then a fire protection barrier with at least a 30 minute fire rating should be provided. A minimum separation distance of 300mm is required between the tank and fire rated barrier unless specified by the tank manufacturer. An OFTEC registered technician can advise further on this type of installation.
Single Skin Oil Tanks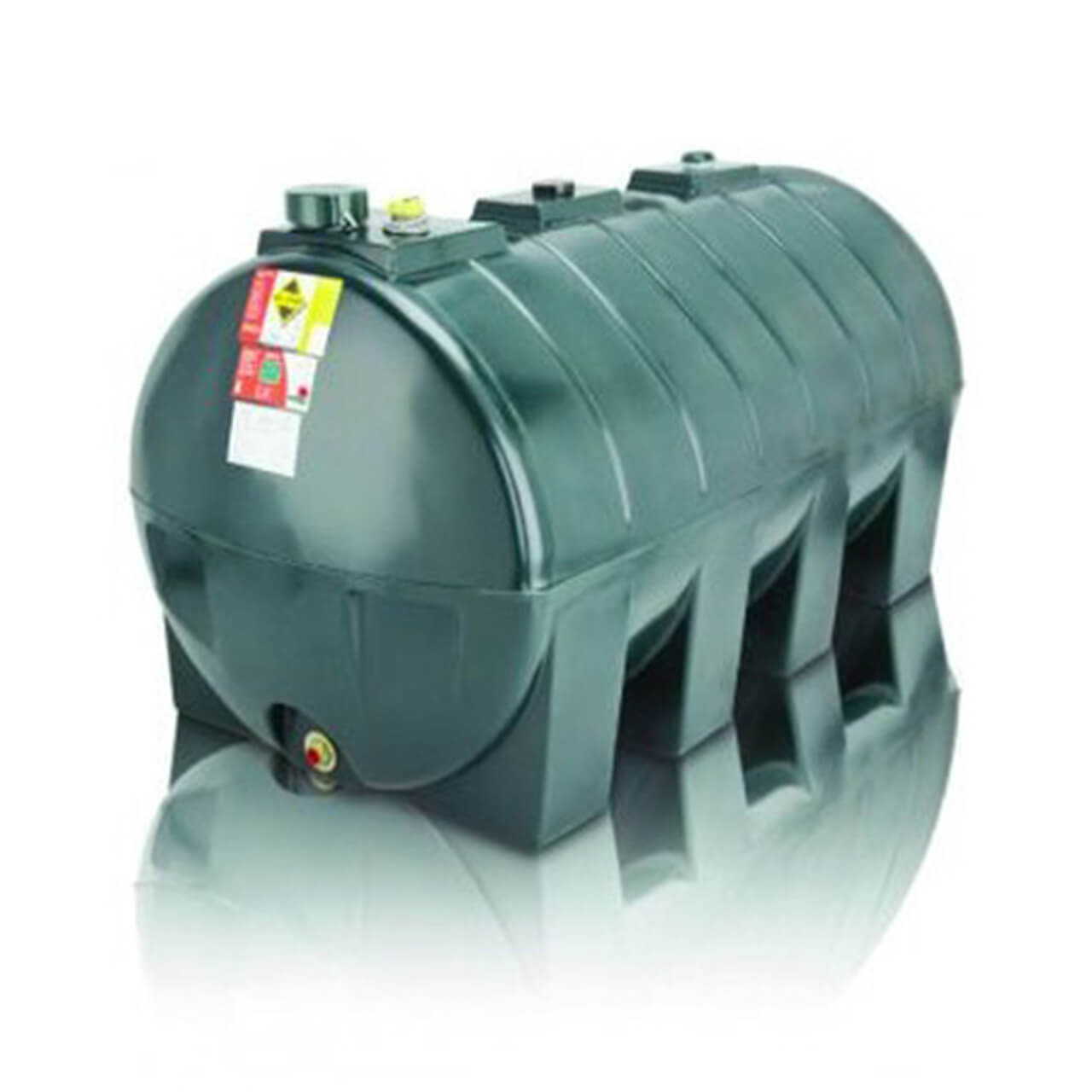 A single skin tank has just one skin within which the oil is held. One layer of plastic is all that separates the stored oil from the outside world. They are generally the cheaper option when it comes to storage tanks, but that comes at the cost of being the least secure solution out of the two.
Single skin oil tanks can still be suitable in certain domestic situations though. However, in England and Scotland, their installation is allowed only if the following conditions are met:
The capacity of the oil tank must be less than 2500 litres
The tank must not be within 10 metres of coastal waters or inland fresh waters like lakes or streams
The tank must not be located where oil spills could run into an open drain or a loose manhole cover
The tank must not be located within 50 metres of a drinking water source, for example wells, boreholes or springs
The tank must not be located over hard ground where oil spills could run over and reach coastal waters, inland fresh waters or a drinking water source
The tank must not be located where the tank vent pipes cannot be seen when the tank's being filled, for example because the delivery tanker is parked too far away
The tank only supplies heating oil to a single family dwelling
The tank isn't located within the inner zone of groundwater source protection zone 1
The tank is not in an area where regional regulations require mandatory bunding
Important Notice:Some of these conditions may require you to check with your neighbours in case they have drinking water sources or open drains etc hiding behind their fences.
Even if you think all the above conditions can be met, an 'oil storage risk assessment' should still be conducted by an OFTEC approved engineer before you consider installing a single skin oil tank. It is also important to note that if you live in Wales all oil tanks must be bunded by law.
If any of the above conditions cannot be met at your property, or you simply don't want to take the risk of damaging the environment, and being fined for it, should your oil tank spring a leak, then you may want to consider a bunded tank instead.
Shop Single Skin Oil Tanks
Bunded Oil Tanks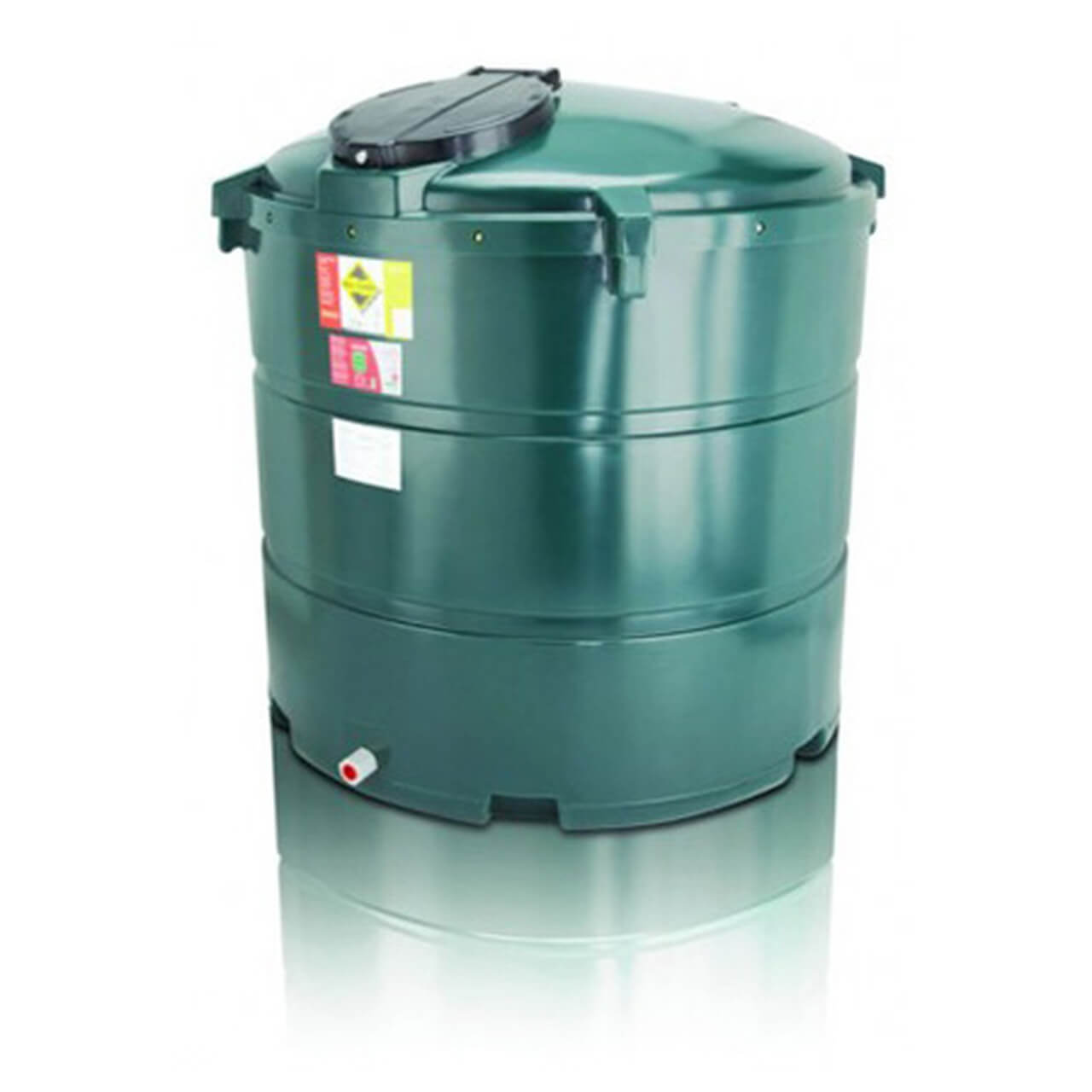 A bunded tank consists of two tanks, one placed inside the other. The inner tank is the main storage facility, while the outer tank acts as a safety net if there is any spillage. If a spillage occurs the contents will be stored within the outer tank in a safe and secure place, avoiding any pollution incidents that can cause damage to the environment and surroundings.
In some cases, such as if you need a tank that can hold more than 3,500 litres of oil in England, or over 2,500 litres in Scotland, a bunded tank will be your only option under current regulations anyway.
Required or not, these tanks are without doubt the safest and most compliant way to store oil. Their advantages over single ski tanks include:
Longer manufacturer's warranty for extra peace of mind
Oil can be recovered from the second skin and reused should a leak occur
Improved security against theft as they usually have a lockable lid
Carefully designed to prevent rainwater from entering
Less conditions need to be met before the tank can be installed
The downside to any bunded tank though is a much higher price when compared to their single skin counterparts. However, a saving now could be costly one in the future.
In Summary
Whilst it's true that oil spills from domestic tanks are rare, when they do happen they are both extremely damaging to the environment and expensive to clean up. So why take the risk? Given all the hoops you need to jump through to meet the conditions of installing a single skin tank, and the high possibility that regulations in England and Scotland will only become stricter in time, installing a bunded tank now could save you further cost and headaches in the future.
Even where current regulations might permit the use of single skin tanks, the additional environmental protection offered through the use of a bunded tank is strongly recommended for any oil storage. It is also advisable to reviewing the Oil Storage Regulations set out by the Government for more information on the varying regulations for domestic, commercial and agricultural installations.
Whatever you ultimately choose however, JDP has you covered with a range of both single skin and bunded tanks that are OFTEC certified and comply fully with the latest Environment Agency Regulations.
Still unsure which tank is right for you? Contact us today! Our team is always ready to answer any of your questions and offer advice if you need help choosing the right one for your project.