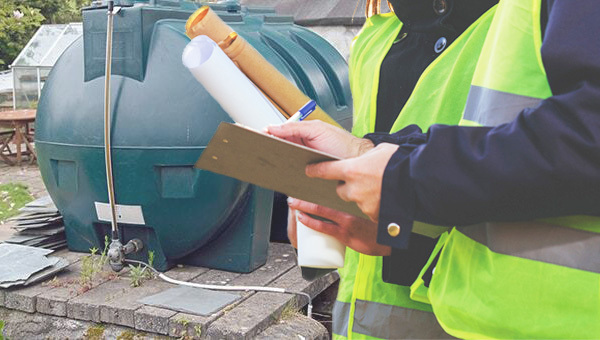 Storing oil on your property, be it for domestic, commercial, or agricultural purposes, comes with numerous benefits but also a lot of responsibilities. Before installing an oil storage tank, or purchasing a property that already has one, it is important to ensure you know what these are.
Understanding who is responsible and what is required to stay compliant with the law can feel like a lot to process. What are the restrictions around installing an oil storage tank? What are the differences between domestic and commercial regulations? What are the environmental risks of storing oil on your property? Who is responsible for cleaning up any leaks or spills? The answers to these questions can be quite technical and sometimes confusing. In this article, however, we will attempt to simplify the jargon and answer the most important questions to help you make a well-informed decision.
Before we get started, though, please note that the regulations discussed throughout this article will primarily focus on those that apply to oil storage in England. Whilst much of the advice will be broadly similar for all areas of the UK, there are key aspects that do differ. If you are installing or managing an oil storage tank on a property in Wales, Scotland, or Northern Ireland, please do ensure that you familiarise yourself with the relevant regulations and adhere to them over advice given in this article should they conflict. Follow the links above to learn more about each country's oil storage regulations.
Disclaimer: All information provided in this article is for general guidance only. We highly recommend contacting a local OFTEC registered technician, or one at least registered with the Building Regulations Competent Person Scheme, for further advice on installing or maintaining an oil storage tank on your property.
Oil Storage Tank Regulations
The first thing to understand is that there are different regulations to follow depending on whether you are storing oil on a domestic, commercial, or agricultural property.
Domestic Oil Storage - Above ground fixed oil tanks with a storage capacity of 3500 litres or less that supply heating oil to a private dwelling - covered by Building Regulations. If you wish to install an oil tank with a capacity greater than 3500 litres, you must then also follow the regulations for commercial oil storage.
Commercial Oil Storage - Above ground oil tanks with a storage capacity of more than 200 litres that supply oil to business premises, marinas, or public sector buildings (such as schools and hospitals) - covered by the Control of Pollution (Oil Storage) (England) Regulations 2001.
Agricultural Oil Storage - Above ground oil tanks on farms storing fuel for agricultural heat and power purposes - covered by the Control of Pollution (Silage, Slurry and Agricultural Fuel Oil), 1991. If you are storing the oil for domestic purposes on your farm (i.e. to provide heating to your farmhouse) or for non-agricultural business purposes (i.e. to fuel lorries or trucks), you must follow the rules for domestic and commercial oil storage, respectively.
There is a lot of information to cover across all three areas, so it's probably best for us to separate them. In this article, we'll take a closer look at the regulations for Domestic Oil Storage. Check out our Commercial and Agricultural Oil Tank Regulations article for more on the other two.
Note: If you have an underground oil storage tank, they are covered by the Defra Groundwater Protection Code. Since this article focuses on above ground storage tanks, we'll not go into any detail about those regulations but have provided a link to the government's guidance for more information.
Building Regulations for Domestic Heating Oil Storage
Domestic heating oil storage is covered by The Building Regulations - Combustion appliances and fuel storage systems - Approved Document J. The document details seven requirements, but it the last two that are the most important for oil storage:
Building Regulations Document J6 - Protection of liquid fuel storage systems
Requirement Description
Requirement Applies to:

Liquid fuel storage systems and the pipes connecting them to combustion appliances shall be constructed and separated from buildings and the boundary of the premises as to reduce to a reasonable level the risk of the fuel igniting in the event of fire in the adjacent buildings or premises.

(a) Fixed oil storage tanks with capacities greater than 90 litres and connecting pipes; and

(b) Fixed liquified petroleum gas storage installations with capacities greater than 150 litres and connecting pipes, which are located outside the building and which serve fixed combustion appliances (including incinerators) in the building.

Building Regulations Document J7 - Protection against pollution
Requirement Description
Requirement Applies to:

Oil storage tanks and the pipes connecting them to combustion appliances shall:

(a) be so constructed and protected as to reduce to a reasonable level the risk of the oil escaping and causing pollution; and

(b) have affixed in a prominent position a durable notice containing information on how to respond to an oil escape so as to reduce to a reasonable level the risk of pollution.

Requirement J7 applies only to fixed oil storage tanks with capacities of 3500 litres or less, and connecting pipes which:

(a) are located outside the building; and

(b) serve fixed combustion appliances (including incinerators) in a building used wholly or mainly as a private dwelling, but does not apply to buried systems.
What does all that mean to a layperson, though? Well, essentially, these two requirements are designed to limit the risk of stored oil becoming a fire risk on your property or a pollution risk to the environment. This is achieved by following a very specific set of rules that state how and where oil storage tanks can be installed. These rules are regulated by OFTEC, so it is advisable to follow their guidance on all things related to the installation of oil storage tanks. We'll take a look at some of that guidance next, but it is definitely worth taking a look at their own website for more information.
It's also worth noting that the Building Regulations set the standards for the installation of New oil storage tanks. There is, as of February 2022, no mandatory requirement to upgrade an existing oil tank that doesn't meet these standards. That being said, it IS against the law to allow your stored oil to pollute the environment, and you could face criminal prosecution and pretty hefty fines if you fail to prevent a spill. Therefore, it really is in your own best interest to ensure that even an old existing soil storage tank installation meets the fire safety and environmental protection regulations.
Note: If you feel like delving into the Building Regulations more yourself, Section 5: Provisions for liquid fuel storage and supply, which starts on p65 of the document, is where you need to look.
Fire Safety Regulations for Storing Domestic Heating Oil
As soon as you connect your oil storage tank to a boiler, it instantly falls under OFTEC regulations. Whilst the risk of fire is considered to be relatively low for oil tanks and their contents, it is still important to comply with the following fire separation distances. According to OFTEC, tanks should be sited:
1.8m away from non-fire rated eaves of a building,
1.8m away from a non-fire rated building or structure (e.g. garden sheds),
1.8m away from openings (such as doors or windows) in a fire-rated building or structure (e.g. brick built house/garage),
1.8m away from oil fired appliance flue terminals,
760mm away from a non-fire rated boundary such as a wooden boundary fence,
600mm away from screening (e.g. trellis and foliage) that does not form part of the boundary.
Choosing the right type of oil storage tank can help here. Check out our related article discussing the types of oil tanks available for more information on this.
If it is impossible to comply with these requirements, regardless of the tank you choose, then a fire protection barrier with at least a 30-minute fire rating can be installed to allow the tank to be sited closer to your property. A minimum separation distance of 300mm is required between the tank and fire-rated barrier unless specified by the tank manufacturer. An OFTEC registered technician can advise further on this type of installation, but the table below shows an abridged copy of the conditions set out in the Building Regulations Document J for general guidance.
Fire protection for oil storage tanks
Location of tank
Protection usually satisfactory

Less than 1800mm from any part of a building

(a) Make building walls imperforate (1) within 1800mm of tanks with at least 30 minutes fire resistance (2) to internal fire and construct eaves.

(b) Provide a fire wall (3) between the tank and any part of the building within 1800mm of the tank and construct eaves as in (a) above. The fire wall should extend at least 300mm higher and wider than the affected parts of the tank.

Less than 760mm from a boundary

Provide a fire wall between the tank and the boundary or a boundary wall having at least 30 minutes fire resistance to fire on either side. The fire wall or the boundary wall should extend at least 300mm higher and wider than the top and sides of the tank.

At least 1800mm from the building and at least 760mm from a boundary

No further provisions necessary.

Notes:

1. Excluding small openings such as air bricks etc.

2. Fire resistance in terms of insulation, integrity and stability as determined by testing to the relevant parts of BS 476 or BS EN 1363 or BS EN 1364.

3. Fire walls are imperforate non-combustible walls or screens, such as masonry walls or fire-rated composite panel screens.
Environmental Protection Regulations for Storing Domestic Heating Oil
If you store heating oil (or any other type of oil or fuel for that matter) on your property, YOU are personally responsible for ensuring it poses as little risk to the environment as humanly possible. Aside from the potentially huge clean-up costs of an oil spill (for which you absolutely want to make sure you are covered under your home insurance), it can be extremely hazardous to the surrounding environment and have a devastating effect on wildlife, vegetation, and water courses. This last point is of particular concern when installing an oil storage tank; you really don't want to be responsible for oil leaking into any water source…especially one that provides drinking water.
For these reasons, the environmental protection regulations set out for oil storage tanks centre around when and where certain types of tanks can be installed. Typically, domestic heating oil storage tanks are available in single skin or bunded designs.
Single Skin Oil Storage Tanks - consist of just one layer of material within which the oil is contained. If that layer is damaged, there is nothing to stop the oil leaking out.
Bunded Oil Storage Tanks - essentially a tank within a tank. The inner tank stores the oil and the outer tank acts as a safety net that can store at least 110% of the inner tank's capacity in case of a leak.
Bunded tanks are the recommended tank of choice for all situations simply because it really isn't worth running the risk of an oil leak damaging the environment. However, single skin oil tanks can still be suitable for certain domestic situations in England and Scotland (they have been banned altogether in Wales), but their installation is allowed only if a strict set of conditions are met.
Single Skin Oil Storage Tank Regulations
According to Approved Document J of the Building regulations, single skin oil storage tanks can only be used if:
The capacity of the oil tank is less than 2500 litres.
The tank only supplies heating oil to a single family dwelling.
The tank is NOT being installed:

within 10 metres of coastal waters or inland fresh waters like lakes or streams,
where oil spills could run into an open drain or a loose manhole cover,
within 50 metres of a drinking water source - for example, wells, boreholes or springs,
over hard ground where oil spills could run over and reach coastal waters, inland fresh waters or a drinking water source,
where the tank vent pipes cannot be seen when the tank's being filled - for example, because the delivery tanker is parked too far away,
within Zone 1 (inner protection zone) of an Environment Agency Groundwater Source Protection Zone (SPZ),
in an area where regional regulations require mandatory bunding.
Important Notice: Some of these conditions may require you to check with your neighbours in case they have drinking water sources, open drains, etc hiding behind their fences.
If you think all the above conditions can be met, an 'oil storage risk assessment' should then be conducted by an OFTEC approved engineer before you consider installing a single skin oil tank. We feel it is also important to reiterate that all oil tanks MUST be bunded by law if you live in Wales. If your planned installation fails to meet the requirements, though, it will be considered a significant risk of pollution that requires secondary containment. This requirement can be met in any of the following ways:
(a) Install an integrally bunded prefabricated tank.
(b) Construct a bund from masonry or concrete in accordance with the general guidance in Above Ground Oil Storage Tanks: PPG2 (2004) and the specific advice in Masonry Bunds for Oil Storage Tanks or Concrete Bunds for Oil Storage Tanks, as appropriate.
If you intend to build a secondary containment structure to house your oil tank, however, it is important to note that any door, vent, or other opening in the walls of the structure must be above the bund level. There's no point encasing your oil tank in a concrete room if an oil spill could seep out under the door. You should also seek specialist advice if the "bund" has a structural role as part of a building.
Bunded Oil Tank Regulations
If your installation location requires you to have a secondary containment system (for any of the reasons mentioned above) or you just want to have one for peace of mind, buying a bunded oil tank is likely to be the easiest way to meet the requirements. As long as the bund (aka the outer case or second skin) has the capacity to hold at least 110% of the maximum contents inside the storage tank, is impermeable to water and oil, and made from non-corrosive materials, the tanks should meet the legal requirements for storing heating oil on a domestic property in just about all locations (always check with a registered technician though, just in case).
The easiest way to ensure your bunded tank is suitable is to check that it has been manufactured in accordance with either:
OFS T100 Oil Firing Equipment Standard - Polyethylene Oil Storage Tanks for Distillate Fuels (2008).
or
OFS T100 Oil Firing Equipment Standard - Steel Oil Storage Tanks and Tank Bunds for use with Distillate Fuels, Lubrication Oils and Waste Oils (2008).
Installation Base Requirements for Storing Domestic Heating Oil
All oil storage tank installations must comply with regional building regulations. OFTEC registered technicians can self-certify their own work without involving Local Authority Building Control in England & Wales. However, if you choose a technician who isn't registered with a scheme like OFTEC, you will then be required to arrange for an inspection from your local building control authority, which can be costly and time-consuming. Similar rules apply in Scotland, where you may need to apply for a warrant before installing your tank.
It is also crucially important to provide a suitable base for your tank to sit on. If the tank is not adequately supported, its structure can be weakened, eventually compromising its ability to keep its contents secure. To avoid this, the base should:
Provide stable, level structural support all year round (regardless of the ground conditions),
Be strong enough to support the weight of your tank when filled to its max capacity (1000 litres of oil weighs almost a ton),
Be non-combustible and imperforate,
Be made from concrete, paving stones or stonework,
Extend at least 300mm out from all sides of the tank,
Be at least 42mm thick.
If you plan to install the oil tank inside a garage or outhouse, it will also need to be self-contained within a 60-minute fire-resistant chamber and the building will need to be sufficiently ventilated.
Again, at the risk of sounding like a stuck record, we cannot overstate the importance of contacting a suitable technician to offer site-specific advice and guidance for your individual property and location BEFORE investing in an oil storage tank. All of the information provided in this article is meant for general guidance only.
Other things to consider when installing oil storage tanks
The following points are ones that generally apply to all oil storage installation types.
Oil Supply Pipes
The pipework that connects your oil storage tank to your oil-fired boiler is a vital part of the system that needs to be correctly installed and properly maintained to extend fire safety and environmental protection efforts beyond just the storage tank. The following choices are worth considering in your planning stage.
Types of Oil Supply Pipes
Standard oil supply pipes are usually made of plastic-coated soft copper tubing that is easy to manipulate and can be installed either above or below ground. Plastic pipe systems can also be used in some cases, but they must only ever be installed underground and on the outside of a building. Any and all fittings or jointing materials used with either must be suitable for the chosen pipe type and for use with oil.
Gravity or Sub-Gravity Systems?
If your oil storage tank can be installed above the height of the boiler, and has a bottom outlet feed, you can rely on a gravity supply system that utilises the pressure within the tank to push the oil along the pipeline. If this kind of installation isn't appropriate, then you will need to rely on a Sub-Gravity system that uses a mechanical device, such as a pump or lifter, to aid the oil flow. A registered technician will be able to advise you on which would be best for your installation, as well as which types and sizes of pipes you will need.
Above Ground Oil Pipe Installations
Ideally, for the sake of performance, your oil supply pipeline should take the most direct route between the storage tank and the boiler. Crucially, however, you need to try and avoid high points in the system, the creation of trip hazards, and any locations that will increase the risk of damage to the pipes and joints. It is also vital to only attach pipes to permanent structures, such as brick walls, and not to sheds or fences that can move or deteriorate over time.
Underground Oil Pipe Installations
Installing oil pipes underground is an effective way to reduce trip hazards and damage risk…but only if the following method is used:
Dig a trench that is 450mm deep and at least 300mm clear of any other underground services (such as water and electricity),
Fill the trench with 40mm of compacted sand.
Lay the pipework.
Backfill over the pipe with a further 40mm of compacted sand.
Lay builder's grade polyethylene above the sand.
Backfill with dirt to 150mm below the finished ground level.
Lay oil-warning marker tape.
Continue to backfill with dirt.
If at all possible, joints in underground oil supply pipework should be avoided. If this is not possible, any joints that are installed should be located within an inspection chamber for easy maintenance access.
Entry of Oil Supply Pipes into Buildings
When oil supply pipes pass through the wall of a building, they need to be sleeved. This can be done by having the supply pipe run through a larger plastic pipe to give it an extra layer of protection against damage from the raw brickwork. This entry point into the building must always occur above ground, even if the pipework is buried underground leading up to it. This is to allow for a fire valve to be fitted before the pipe passes into the building.
Oil Supply Fire Valves
When it comes to the installation of oil supply pipework into a building, fire valves are an essential safety feature. Remotely activated via a sensor, they will stop the supply of oil into the building in the event of a fire or the overheating of the boiler/appliance. For new installations, the valve must be installed externally at the point where the pipework passes through the building wall. For existing installations, where the pipework isn't accessible externally, the fire valve can be installed internally where the pipe initially appears. Your registered technician will be able to advise you on the correct installation and positioning of the valve.
Oil Storage Overfill Prevention
While your oil delivery person will take every precaution to prevent the overfilling of your oil tank, installing an automatic overfill prevention device will give you that extra peace of mind. In situations where the oil tank is more than 30m from a road (meaning that a remote fill pipe has to be provided for the oil supplier to connect to), they will likely insist on your tank being fitted with an overfill prevention device before making your delivery.
This device ensures that when the tank reaches a certain safety fill level, the oil flow is either cut off or raises an alarm to warn the delivery person to stop the supply. Installing such a device may not always be mandatory, but it is highly recommended to further reduce the risks of an oil spill.
Oil Storage Tank Safety Sticker
Any oil storage installation should prominently display a label that gives advice on what to do if an oil spill does occur, along with the telephone number for the Environment Agency's Emergency Hotline - this will usually be provided by the person installing your tank. However, if your tank doesn't have this sticker, you will need to order a new one - advice for doing so can be found on the government's website.
Oil Theft - how secure is your oil?
Oil theft is, regrettably, an extra worry that comes with storing oil on your property. Short of employing a crack team of ex-SAS security guards and vicious guard dogs to protect your tank around the clock, there isn't much you can do to stop people wanting to pinch your valuable oil…but there are things you can do to make it harder for them to get away with it. These include:
Install a lockable filler cap (if your tank doesn't already have a lockable inspection cover),
Install a sensor that monitors the oil level in your tank and alerts you to any sudden drops,
Hide the tank behind bushes or screening (as long as the minimum fire separation distances can still be met) to make it less visible from the road,
Install the tank somewhere on your property that is visible from within your building,
Install the tank within a lockable compound with CCTV surveillance.
Most importantly of all, make sure that your insurance covers oil theft…just in case a particularly determined crook gets away with it anyway.
Disposing of old oil storage tanks
If you are replacing an existing oil storage tank with a new one, you're probably wondering what you should do with the old one. The most important piece of advice we can offer here is DO NOT ATTEMPT TO REMOVE IT YOURSELF! Oil tanks must ALWAYS be decommissioned and disposed of by professional companies operating in line with UK governmental guidelines. Even if you think your tank is "empty", it can still pose a significant environmental risk if not disposed of properly. Having it removed by professionals is of paramount importance. Speak to the registered installer of your new tank for further advice.
And that's it for our guide to oil tank regulations. There is one final point that we feel worth mentioning here, though, and that is the answer to a question we've been regularly asked.
Is oil central heating going to be banned in the UK?
Despite what you may have seen in the news, or heard about from your favourite social media scaremonger, gas and oil boilers are not being banned in the UK. What is happening is a planned phasing out of fossil fuel heating in new build properties by 2025. This means that new houses built after 2025 will instead be installed with low-carbon alternatives.
The government announced that by 2025, all new homes must achieve a 75-80% carbon reduction…which is unlikely to be achieved with gas or oil-fired boilers. This target does not affect existing properties, however. You will not be forced to replace your heating system come 2025.
We hope this has been an informative article, but do check out our "Basic Guide to Oil Storage Tanks" and "What Type of Tank Do You Need?" articles for further information. If you are in the market for high-quality polyethylene oil tanks, we stock a great range of single skin and bunded tanks over in our Oil Storage Tanks section that we'd recommend taking a look at.
If you have any further questions about oil tank regulations, or need any further advice about oil storage options, contact JDP today. Our team of experts are always on hand to help with all of your civils and drainage needs.