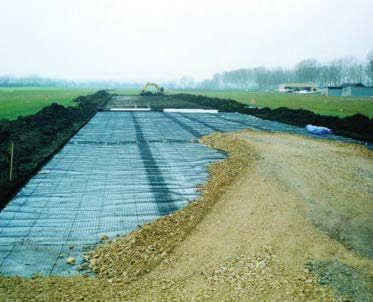 JDP offer both extruded and woven polyester geogrids, which are widely accepted as giving the best performance and longer lasting results for soil reinforcement.
Mono-orientated geogrids (strength in one direction) offer the ideal solution for the construction of embankments and earth walls that are stable at inclinations of up to 80°.
Bi-oriented geogrids (strength in both directions) offer extremely high performance making them suitable for embankment foundations over soft soil; they are widely used in road construction, so they can also be found in our Road Building Products section.
Woven geogrids offer high strength at low elongation and are available as bi-axial geogrid (strength in both directions) and as a uni-axial geogrid (strength in one direction). These geogrids offer a cost saving against extruded geogrids where such high performance is not required.
Whatever the nature of your project, JDP can give advice in selecting the appropriate product and offer cost effective solutions.
Features & Benefits
Tensile reinforcement
Distribute loads more effectively
Reduce rutting and shear failure
Increases the bearing capacity of soft sub-soil
Provides the lateral confinement required to prevent the pumping of sub-grade fines - increasing longevity and reducing the need for maintenance
Extruded polypropylene geogrids have an open structure with rigid ribs and junctions that create a more efficient interlocking action between the geogrid and the fill to give improved performance
Mono-oriented Geogrid
Available in a range of tensile strengths beyond 120kN/m2, this product minimises environmental impact by allowing the use of poor quality in-situ fill material and encouraging slope back to its natural vegetated state.
Applications
Vegetated steep slope embankments
Landslide repair
Modular concrete block retaining walls
Road and railway embankments
Rock fall protection systems
Containment dykes for landfill and water basins
Bi-oriented Geogrid
Applications
Embankment foundations over soft soil
Railroad ballast reinforcement
Soil reinforcement of building foundations
Industrial yards
Airport runways
Paved and unpaved roads
Bi-oriented Geocomposite Geogrid
A non woven geotextile combined with a bi-oriented geogrid makes a separation and stabilisation product which avoids mixing different soil types whilst providing effective filtration and high strength.
Applications
Soft soil stabilisation and separation
High performance and extended life applications
Improve railroad track life
Retaining Walls & Embankments Products