PVC-O Irrigation Pipe
Molecular orientated PVC (PVC-O) is a high performance, cost effective and environmentally friendly product for the distribution of irrigation water. The PVC-O pipe is jointed with a mechanical rubber ring joint and complimented with a range of PVC-O and ductile iron fittings for use with PVC-O pipe. The pipe is coloured blue and rated to 16 bar working pressure.
The process in which PVC-O pipe is made involves re-orientating the molecules of PVC-u material to improve physical properties. This combination gives the best weight vs. performance characteristics in the industry for a product that will last over 50 years.
Features & Benefits
Non corrosive
Lightweight and easy to handle - reduced installation costs
Extremely tough and resilient
Long asset life
Cleanliness – commissioning time reduced
Tried and tested – proven reliability
Resistant to fast fracture
Low frictional resistance
16 bar pressure rating – 25bar also available
Suitable for narrow trenching – up to 30% saving on open cut trenching methods
Applications
Irrigation Water
Suitable for narrow trenching
PVC-O Metric System - Ring Seal Mechanical Joint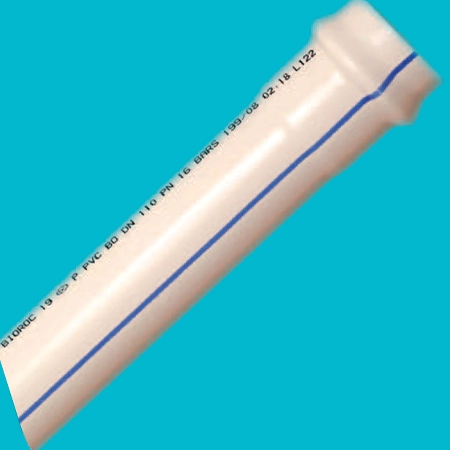 | Internal Dia (mm) | External Dia (mm) | Code |
| --- | --- | --- |
| 103.8 | 110 | 082336405 |
| 133.2 | 140 | 082384536 |
| 151.2 | 160 | 082336408 |
| 189.0 | 200 | 082336409 |
| 237.8 | 250 | 082384539 |
Irrigation Systems Products