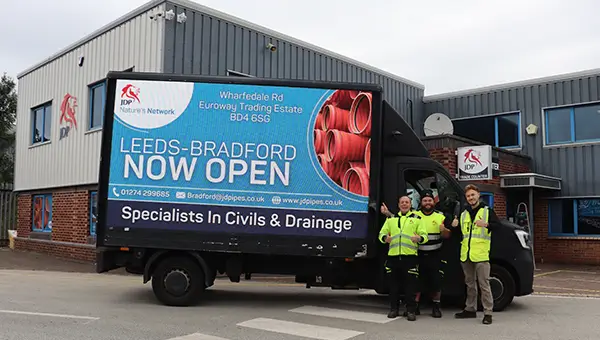 The branch officially opened 2nd October 2023 and is the 26th branch in its nationwide network, offering the widest range of water management and drainage products for projects spanning housing and development, agriculture, industrial, and sports & recreation sectors.
Occupying 2.75 acres, the new JDP Leeds-Bradford branch is the largest site outside of the Carlisle Head Office and is ideally located on the Euroway Trading Estate in Bradford for ease of access and central location to motorway networks. With extensive external storage, state-of-the-art warehouse facilities, and a well-appointed trade counter, the flagship branch is poised to cater to a diverse range of customers, from residential projects to large-scale industrial ventures.
Speaking about the new JDP Branch, Laura Thomson, National Operations Manager, said:
"Our new flagship branch is a huge investment by JDP and has been located in Bradford due to growing demand for our vast range of drainage products. Its remarkable stockholding capacity, which is the largest to date within the JDP network, will allow us to offer high-quality water management and drainage products to the whole of West Yorkshire and Humberside, including Leeds and Bradford and its customers access to a wide array of solutions for their civil and drainage needs."
With a team of knowledgeable staff dedicated to assisting customers with their project needs, the new flagship branch will offer exceptional service, on-time deliveries, and technical assistance. A number of special offers were also available during the opening week to encourage footfall.
The new JDP Leeds/Bradford branch can be found: Wharfedale Road, Euroway Trading Estate, Bradford BD4 6SG, T: 01274 299685, E: Bradford@jdpipes.co.uk
For more information contact JDP today.
Contact Us