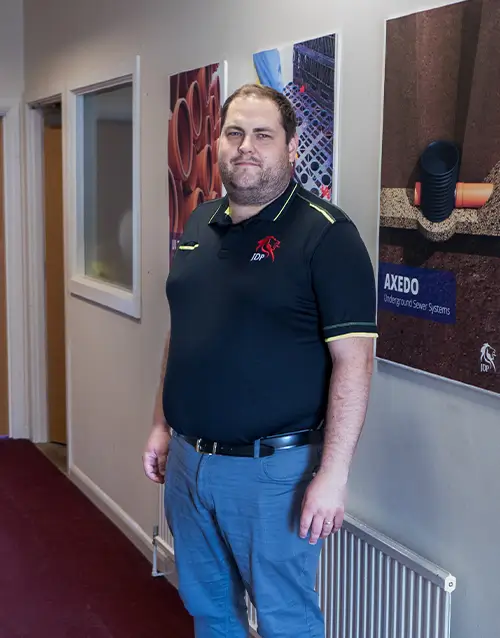 JDP (John Davidson Pipes), a leading provider of drainage pipe systems and water management solutions, is pleased to announce the appointment of Tom House as the Head of Commercial. With an extensive background in the industry and a proven track record of success, Tom House is set to play a pivotal role in shaping the company's future.
Tom began his career in the hospitality sector, working within the family business before joining JDP in 2013 as a graduate trainee. His tenure at JDP commenced in the Technical Support team, where he quickly showcased his abilities and was promoted to Supervisor in 2015. Tom's exceptional performance continued, leading him to assume the role of Technical Manager and, subsequently, become a vital part of the Senior Management Team (SMT) in 2021.
Speaking about his new position, Tom said:
"What attracted me to this role at JDP is the dynamic and fast-paced nature of the work. Every day presents new challenges and opportunities, allowing me to contribute to the continued growth and development of key teams within the company."
In his new position as Head of Commercial, Tom's primary objective is to ensure that JDP maintains a competitive edge by delivering relevant and innovative products to its diverse customer base. His responsibilities encompass overseeing crucial departments, including category management, marketing and e-commerce, technical support, business development, and fabrications.
Tom is also dedicated to fostering strong collaborations with manufacturing partners, with a keen focus on providing exceptional customer service. As JDP looks ahead to the future, Tom envisions a trajectory of continued success, commenting:
"JDP has consistently demonstrated its commitment to growth and innovation. Over the next few years, we aim to expand our market share by enhancing our product offerings and leveraging smarter technology to provide a seamless customer experience".
Tom's extensive experience and strategic vision position him as an invaluable asset to JDP's leadership team. His appointment signifies a significant step towards the company's ongoing success and evolution within the industry.